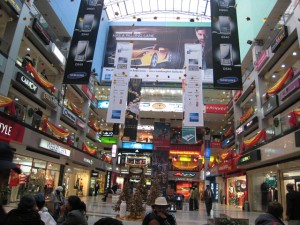 Track2Realty Exclusive: Residential market may be the demand driver of the property segment across the country, but experience suggests only the markets where commercial property does well succeeds in keeping the momentum up for long. The conventional wisdom of property market is as relevant in the end-user driven markets like Coimbatore as in the speculative markets of metro cities.
Though Coimbatore referred as the 'Manchester of South India' is a major contributor to the state of Tamil Nadu's GDP, yet analysts often wonder whether the commercial realty is up to meet the challenges of keeping Coimbatore's reputation with industrial and commercial excellence.
Coimbatore remains high on the commercial activities in the South India and the developers seem to be equally prudent with the supply of retail and office spaces in the city as they have done with the residential properties. Therefore, an impression may get ground in the collective consciousness that Coimbatore commercial real estate is not as much in demand. But in reality the commercial properties are maintaining the growth momentum.
Forecasts and projections are really promising for Coimbatore. The city has been pitched as one among the top 20 retail destinations of the south by JLL. Analysts maintain the growth of existing sectors like textile and IT is going to need more support infrastructure wise. It is believed that new sectors will grow as old ones flourish. There will be increased need for office spaces and quality retail outlets. Some even says the scenario is similar to Bangalore in early 90s and that indicates very bright prospects for the commercial property market here.
Coimbatore is broadly divided into four areas: North, Central, South and East. Known as the textile hub of Tamil Nadu, it is the East Coimbatore that has major textile industries. Central Coimbatore is the commercial nerve of the city marked by offices, industries, shops and market places. The city is surrounded by the mountains on the west, and reserve forests towards the north. The properties in Central and East Coimbatore are therefore most expensive due to their sheer commercial nature.
Bijay Agarwal, MD, Salarpuria Sattva maintains Coimbatore is not going to be what it is today. It will grow several times and the manifold growth will be at a pace faster than one can imagine. The government has also ensured that infrastructure support will be given to Coimbatore, which in turn builds up the prospects for the city as more people will invest in more sectors.
"Life cannot exist on IT or textiles alone. There will be education, hospitality, retail, health, services and many more sectors that will flourish in the near future. Coimbatore has already started its journey to being a future metropolis. The present infrastructure plans on the anvil for the city will lead to interest from businesses to set up base here. The fact that land is still cheaper here compared to other big cities and metros makes it an ideal destination to do business," says Agarwal.
Tamil Nadu government has been pro-active to recognise the prospects of this city and has taken special interest in seeing Coimbatore grow. There is already a very well established industry base here and the eco system is receptive to the growth of economic activities. The conducive culture for economic growth is further being created with infrastructure and policy facilitation.
Rajsheskhar Koneru – Regional Owner of RE/MAX Rest of Tamil Nadu says office space uptake is important to gauge prospects of job growth, which will help boost the residential market also. Data show that office space demand for smaller spaces has been robust, while larger spaces have been slow to be rented out. Rental rates in Tidel Park were at Rs 25 per sq. ft for smaller spaces, as of February 2013. IT majors that have operations in and around Tidel Park include IBM, HCL, Wipro and Bosch.
"Commercial activity is low but they are booming the market very fast. The office space demand for small spaces has been robust, while larger spaces have been slow to be rented out. Coimbatore is the district capital and a big city for all adjoining towns and villages. Lot of people travel to Coimbatore over the weekend for shopping and hence retail is a big driving factor in Coimbatore. Also, the culture of mall is not so widespread. People still prefer to go to small shops known to their family for generations. People visit Coimbatore as it is close to a lot of tourist destinations and because of good weather," says Koneru.
However, that is just one side of the story with commercial real estate in the city. As a matter of fact, IT companies are also looking for explosion in Coimbatore as it is a talent hub with a lot of student population. The industries that were once shut down are slowly restoring their ground as power supply is better and the government policies are helping them compete in international markets. All these factors promise to develop the Coimbatore commercial realty market in a big way.
There are certain concerns to be addressed to take Coimbatore market to the fast forward mode of commercial activities. The city is lacking in sanitation facilities. Work on the laying of underground drainage has been slow. Also, there are many areas where the roads are congested, such as Mettupalayam road, Trichy road and area around Ukkadam. Coimbatore also falls under the Seismic Zone III/IV, which indicates moderate to high earthquake risk. The developers though assert they follow strict guidelines in construction to ensure that buildings withstand earthquakes.
Despite some of these challenges the city is fast catching up on various scales needed to catalyse the commercial property. The improvement in the power situation has been easing concerns recently. Corporates are also increasingly getting attracted by the city's overall affordability. As a rough estimate, the cost of doing business is 40 per cent lower in Coimbatore, compared to Chennai. And if only the expansion plans of retail and IT are any indication, commercial property looks pretty promising for the next few years. As a matter of fact, many believe, once the macro-economic indicators are bullish, there may not be a late-mover advantage in the commercial real estate of Coimbatore. Now that explains whether it is right time to enter commercial property of Coimbatore.