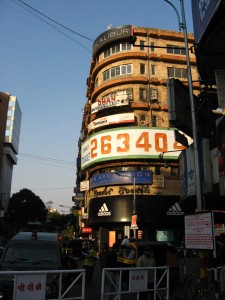 Track2Realty Exclusive: It was only a few years back that when a couple of high-end luxury projects were launched in Pune analysts were busy with the cost-benefit analysis of the splurge in the market. The rising interest of NRIs, HNIs and even global realty baron soon made everyone realise that Pune has already made its presence on the luxury landscape of India.
While a large section of market watchers earlier maintained that the smaller ticket size, compared to Mumbai luxury property, has been the prime driver of luxury in Pune, the fact of the matter is that Pune's emergence as a 'Destination Luxury' has been due to multiple of factors, including better infrastructure, booming economy with MNCs attracting expats and more appreciation potential.
Analysts maintain Pune is much better placed as a luxury housing destination than Mumbai or Gurgaon, since the supply is still in the right proportion to demand and thus speculative aspect has been largely squashed.
The supply overhang is much lower because of better absorption, and demand promises to be consistent as Pune's unique combination of economic drivers ensures that purchasing power and aspiration for luxury homes will continue to grow. Moreover, it is becoming an investment Mecca for property investors outside Pune as well.
 Arvind Jain, Managing Director, Pride Group maintains that Pune holds a very prominent place on India's luxury housing map. On this front, it now falls in the same basket as Mumbai, Bangalore and Delhi and is, in fact, gaining an increasingly bigger share of attention from investors and end users alike.
 "There are several factors driving the demand for luxury housing in Pune. In the first place luxury homes in Pune are more cost-effective than in Mumbai. The price contrast between these two neighbouring cities is actually quite striking and hard to ignore. Secondly, the concept of luxury living is more evolved in Pune as luxury projects in the city tend to offer much better amenities and also surroundings. In a city like Mumbai, luxury is first defined by the high prices inherent in its up-market locations. In Pune, it is defined by larger spaces, superior specifications and more luxury amenities," says Jain.
This raises the question as to whether Pune has the potential to grow the way other luxury destinations like Gurgaon emerged. Analysts tracking the market in this part of the world opine the price differential is just one aspect that gives Pune an edge. Luxury housing in this city offers better value not only in lower rates but also a superior luxury lifestyle experience.
Kishor Pate, CMD, Amit Enterprises Housing says Pune's potential for growth as a luxury homes destination, both from a end user and investor perspective, is unparalleled. Demand for luxury units is eminently sustainable, and the generous supply of such projects is helping keep prices within the bounds of affordability of the target clientele. Also, there is very little, if any, speculative churn left in this market. According to him, an increasing number of multinational companies are recognizing Pune's unique advantages in terms of trained manpower, cheaper real estate costs and reduced logistical hassles.
"More and more high-paying jobs are being created every year, which leads to a steady demand for high-end homes. At the same time, more and more NRIs from Pune who have completed their high-paying tenures abroad are returning every year. Also, Pune offers luxury in the truest sense. Areas like Sahakarnagar, Ambegaon, Baner and Wakad provide scenic natural splendour as well as excellent connectivity to the city's economic nerve centres. This aspect has proved to be a major draw for Pune's Generation Z luxury home seekers," says Pate.
On the perception that luxury projects in Pune are shaping up just due to being less costly than Mumbai, Abhay Kumar, CMD, Grih Pravesh Buildteck says this could be one of the various reasons but can never be the main driving force. According to him, Pune has got different identity and the culture of Mumbai and Pune too varies. Pune is fast emerging into a self sufficient city in terms of realty, infrastructure, employment, other economic activities, power, water supply etc.
"Historically Pune attracted foreigners due to OSHO ashram but in last 15 years this city has developed face of its own. Being close to Mumbai has been always an advantage but some planned developments have added new dimensions to this city. Today, IT in Maharashtra does not mean Mumbai or any other city but it is Pune first. Recently, most of the automobile giants have started their production facilities in Pune and when you see the luxury projects you can identify a new signature of this city," says Abhay.
The fact remains that the premium housing segment in Pune has continued to thrive even as the market for luxury homes in Mumbai declined steadily. In short, both from an ownership as well as investment perspective, luxury housing in Pune will thrive and grow in the future.
Moreover, the demand for luxury residential units in Pune is highest in areas that provide ready access to the central business district and employment nodes. Unlike Mumbai, these focal points are quickly accessible from various points of the city. This factor has played an important role in boosting the demand for luxury housing even in non-central areas.
The traditional luxury home locations of Pune such as Sahakarnagar, Boat Club Road and Kalyaninagar continue to see a lot of demand. Areas like Baner, Aundh and Ambegaon are also very successful hotspots for luxury projects. Obviously, luxury homes in key areas such as Aundh, Baner, Sahakarnagar, Kalyaninagar and Viman Nagar will become increasingly valuable over time.
The driving factors of luxury property in Pune are, however, different from just the buyer-seller perspective. From the supply side, the developers are launching luxury projects because the availability of big pieces of land, relatively lower price, potential market due to IT sectors and Mumbai being in vicinity, good infrastructure support by MIDC, Pune Municipal Corporation and Pimpri-Chinchwad Municipal Corporation.
From buyer side, the factors for luxury projects are good climatic condition, fast changing cosmopolitan population, good support by banks and financial institutions, better employment opportunities in IT and automobile sectors, closeness to financial capital and better connectivity through roads, railways and airways.   
Pune is not only shaping up as a better luxury market than the neighbouring Mumbai, but the potential is better than that of Gurgaon as well. Huge employment opportunities have made this city an attractive destination. The prices are much better than Gurgaon, and so is the infrastructure that is quite ahead of Gurgaon.
Climatic conditions have been always an edge for this city. It has now got everything; world class hotels and recreational facilities, malls, employment opportunities in sectors like IT, automobiles, manufacturing, agriculture, education etc. This city has got ample water to support its growth and power too is not a problem for Pune. It has got all the ingredients to stand out as the luxury destination in India.