Bottom Line: No other region in any other city would have attracted the developers with as many new launches and future planning as North Bangalore.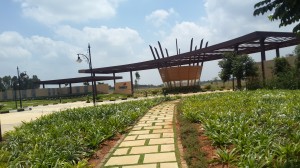 The attraction for North Bangalore has been so profound for this location that most of the properties launched in recent times have been in North Bangalore only. It has definitely started overshadowing other hot property destinations like Outer Ring Road, Sarjapur and Whitefield.
Today, it can be vouchsafed that no other property region across the top 10 cities has made the developers as confident and bullish as North Bangalore. For example, other mass housing destinations like Rajarhat Newtown in Kolkata or Greater Noida West in Delhi-NCR have come up only because of the low price point.  But in case of North Bangalore the market is today dotted with all kinds of offerings, ranging from affordable housing to upscale luxury and villa projects.
What makes North Bangalore so attractive as a future property destination? Is it price point, future growth, land availability or there are more inherent strengths?
Ashish R Puravankara, Managing Director of Puravankara Limited believes it is a combination of all these reasons that any prudent developer would attest. According to him, in Bangalore there has been evidence that future growth is a bigger magnet as highlighted by the growth stories of Whitefield, Doddaballapur, Hosur Road and Devanahalli.
"The availability of large-scale land tracts complimented by superior connectivity to CBD and other business districts, and more than adequate social infrastructure are the reasons why developers are flocking to North Bangalore. Airports globally are epicenters of development coupled with good network of roads and the same is true for North Bangalore. The best schools and hospitals are located there with upcoming office supply, and malls make it an attractive proposition. Just to put things in perspective, 3000 acres of space has been trifurcated into three business parks – IT, hardware and aerospace park and this is ten times the size of Electronic City," says Puravankara.
North Bangalore attractions

Kempegowda International Airport

Elevated Expressway connecting Hebbal Junction to Kempegowda International Airport

Rapid infrastructure development over the past years

Several malls, multiplexes, retail outlets, hospitals, schools and banks

Close proximity to Manyata Tech Park, Aerospace SEZ and other IT parks
P. Ravindra Pai, Managing Director, Century Real Estate points out that in the past, North Bangalore had very few attractions. Nandi Hills and the aero show mostly attracted people. Though there were large parcels of land available, most of the developers stayed away from them. The Bengaluru International airport started its operations in the year May 2008. Ever since then, North Bangalore has seen an upscale in its development.
"The landscape of North Bangalore has changed significantly in the past few years. The areas starting Hebbal to Devanahalli haves recently witnessed a splurge of residential and commercial development. There are also many planned projects – both residential and commercial which are at various stages of execution. Developers are also expecting progress in the infrastructure development, including hardware and tech parks which are coming up near the airport. Investors who are looking at residential properties can avail property at an affordable cost," says Pai.
JC Sharma, VC & MD of Sobha Limited maintains that the prime locations of Bangalore have almost saturated and new residential micro markets are emerging and growing at a fast pace. One such micro market is North Bengaluru. This pocket of the city has gained tremendous boost with the Kempegowda International airport. Several malls, multiplexes, retail outlets, hospitals, schools and banks have made it a hotspot for real estate investment, especially for luxury housing.
"Close proximity to Manyata Tech Park, Aerospace SEZ and other IT parks gives the market the right momentum for further social and commercial growth. Additionally, the completion of the elevated expressway connecting Hebbal junction to the International Airport has made seamless connectivity to North Bengaluru. Some of the housing hotspots in North Bengaluru include Jakkur, Hebbal, Bellary Road and Thanisandra," says Sharma.
Upcoming infrastructure

Expansion of Yelahanka Railway Station

Peripheral Ring Road

High speed Rail Link

Connecting Central Bangalore to BIA

Bangalore Metro Rail Phase 2 – BIA to Nagawara to Gottigere and Bellary Road

Hebbal – Devanahalli – Elevated Expressway
It is not just the residential projects that make North Bangalore a promising destination for future investment. Rather, the commercial developments and travelling distance to major job catchment areas is what is driving the buyers in this part of the city today.
With Manyata Embassy business Park, Karle Town Centre, Kirloskar Tech Park and Brigade Magnum already being job magnets in the vicinity, the region promises to emerge as a job magnet in future since many Multi-National Corporations (MNCs) have invested along this stretch due to availability of large land parcels and improved connectivity to the city centre and major tech clusters.
Companies like Shell, Airbus, Bombardier, Boeing, Tyco Electricals, Thyssen Krupp, AMADA, Starrag are expanding their presence in this micro market.
Ravi Sinha