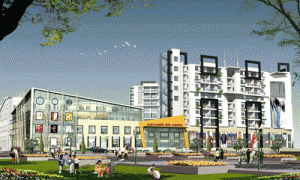 Parsvnath Developers is raising Rs 120 crore from Kotak Realty Fund for a new 100-acre integrated township project on Sohna Road in Gurgaon. Kotak Realty fund will get a 20% stake in the special purpose vehicle that will develop the yet unnamed project, according to the sources close to the development.
The project will be largely residential with some commercial and retail developments, and will be launched in the next two months. "The land for the project has been aggregated by Parsvnath over many years and at approvals are being taken to launch the project," source maintained.
Parsvnath could not be reached for the comment. A Kotak Realty Fund spokesperson declined to comment on the deal.
Parsvnath Developers has sold stakes in many of its residential and office projects to private equity funds in the past. Last year, JP Morgan had invested $30 million in Parsvnath's residential project La Tropicana in Civil Lines area of north Delhi, which was used to give an exit to Red fort Capital that had invested 115 crore in the project in 2009.
Red Fort Capital had earlier picked up 24.5% for Rs 120 crore in an office project Parsvnath is developing on land it had got from the Delhi Metro Rail Corporation in New Delhi. In January 2011, Sun-Apollo India Real Estate Fund invested 100 crore for a 49.9% stake in a residential project Parsvnath Exotica in Ghaziabad near Delhi.
Parsvnath is currently trying to reduce its debt, which stands at around Rs 1,300 crore. It recently put a 1.2-acre plot in the heart of Delhi, on Kasturba Gandhi Marg, on the block and is expecting to raise around 700 crore through the sale.
It is also in the process of selling some land parcels it owns in Kochi and Chennai. The company has been selling its non-core assets to reduce debt, which has come down by 50% over the last two years.