News Point: UAE-based International Real Estate and Investment Show is set to bring the biggest local and international names in the real estate and property investment industry to the UAE"s capital.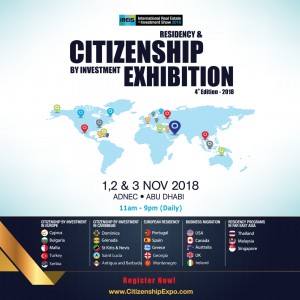 Scheduled to be held at the Abu Dhabi National Exhibition Centre from November 1st to 3rd, 2018, the show will be a one-stop shop for global investors who seek real estate investment opportunities in the UAE.
The International Real Estate and Investment Show (IREIS, a B2C sales and networking platform where spot sales are permitted, the 10th edition is bringing leading local and foreign real estate developers under one roof will reflect the attractiveness of UAE"s real estate sector and will attract investors from various parts of the world.
The show is expecting over 125 high-end exhibitors and more than 12,000 visitors. To give a greater value to the exhibitors and visitors, the associated events that will complement the main IREIS Abu Dhabi 2018 are "International Real Estate Conference", "Citizenship & Residency Expo"and the "Global Investor Meet." 
Antoine Georges, Managing Director of DOME Exhibitions, said, "Despite slow and gradual pace of UAE real estate market, investors have faith in the emirate based on Abu Dhabi"s reserves, government economic stimulus and affordable inventory. It was reflected in our in-house data of UAE and foreign real estate companies. Higher oil prices have provided added stimulus to the market and boosted investor confidence."
Deloitte"s Middle East Real Estate and Construction 2018 report said, "Dubai has developed a business friendly legal and regulatory environment. The Heritage Foundation's 2017 Index of Economic Freedom ranked the U.A.E. as the 8th most free economy in the world, calling out efforts to strengthen the business climate, boost investment and foster the emergence of a more vibrant and diverse private sector. This has allowed Dubai to build globally competitive economic sectors including finance, logistics, maritime and tourism. The growth in these sectors in Dubai will continue to drive demand across the real estate market, including office, residential, retail, hospitality, industrial and logistics uses."
Dubai remains an attractive destination for investors with safe return on investment, which is evident from the emirate's data of investors, who belong to more than 217 nationalities from all over the world. Figures released by Dubai Land Department (DLD) showed that 13,759 real estate transactions worth Dh58 billion were recorded in Q1 2018. 
Abu Dhabi, with geographical limitations of its core islands, supply levels are expected to gradually align with demand, making Abu Dhabi's maturing market present long-term investment opportunities for the astute buyer," said David Godchaux, Chief Executive Officer of Core Savills, in report released in April 2018.
This is driven by the fact that Abu Dhabi has the hydrocarbon reserves to fuel its future growth, while government measures towards diversification are starting to bear fruit. Despite oversupply concerns and ongoing dampened economic sentiment, many regional buyers continue to have faith in the long-term prospects of Abu Dhabi," David added.
Sharjah, with a new legislation that came into effect this spring, the emirate for the first time allows non- Arab nationals without a UAE residency visa to purchase property in the emirate on a 100-year renewable land lease. Reforms will stimulate demand and increase foreign investment in Sharjah"s real estate market.
In 2017, the International Real Estate and Investment Show attracted $220 million (Dh807 million) worth of investments with 125 exhibitors from 24 countries and 8600 visitors from 75 countries, with the presence of major exhibitors like Emaar, Damac, Danube, G& Co, Arada, Majid Al Futtaim, Azizi, Dubai Properties, FAM Holding and many more. That made the show a resounding success.
Experts say the demand in the residential housing segment is accelerating and creating more opportunities for affordable real estate developers and investors. Tourism sector is also at its peak as Expo 2020 is approaching. Real estate advisory firm Jones Lang LaSalle (JLL) said that the increasing demand for affordable housing and tourism is creating a positive vibe in the market. 
Dony Cyril, Exhibitions Director at DOME Exhibitions, said, "We had very positive meetings with several developers who showed overwhelmingly positive interest in IREIS Abu Dhabi 2018 for an opportunity to sell their properties".
"Special offers and exclusive instalment schemes offered by major developers with spot booking benefits is attracting more investors and provides more value for the purchases during the 3-day event. Property consultants and financial institutions will also be at hand to provide potential buyers with expertise on the latest market trends and suitable mortgage offers," Dony said.
The International Real Estate and Investment Show (IREIS 2018) Abu Dhabi is organised by Abu Dhabi based Exhibition organizing firm Dome Exhibitions.