Bottom Line: Some of the ongoing and proposed infrastructure projects promise to transform commuting in the city.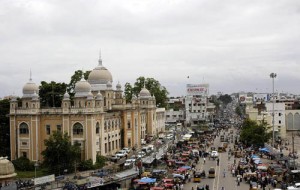 Many of the urban centers of India are crumbling under the weight of its poor infrastructure, leading to commuting nightmares. Hyderabad, on the contrary, is a case study where the constant infrastructure growth promises to change the living and commuting experiences of this ever-growing city.
It is hence no surprise that in the Mercer's Quality of Living Rankings 2016, Hyderabad was picked as the top Indian city to live in for its socio-infrastructure.
There are certain on-ground projects being executed as well as upcoming infrastructure projects that promise to make this city one of the global best in living and working.
Some of the mega infrastructure projects, when completed, like Hyderabad Metro project next year and the other projects like Strategic Road Development Project of INR 3000 crore and four major flyovers/skyways to decongest busy junctions and nodal city points, are very promising from the standpoint of transportation in the city.
Projects to change Hyderabad

Hyderabad Metro

Strategic Road Development Project

Outer Ring Road

Regional Ring Road 
The 158 kms stretch of Outer Ring Road (ORR) is near completion now and this eight land Expressway constructed by Hyderabad Municipal Development Authority (HMDA) promises to decongest Inner Ring Road and other metropolitan areas.
It is not just a faster access to International Airport but also the office goers of Hitech City, Nanakramguda Financial District and IKP Knowledge Park. It also offers easy connectivity to NH7, NH9, NH 161 and NH765. Linkage between proposed MRTS and bus system will make commuting in the region really hassle free.
Similarly, the countdown has started for the Hyderabad Metro to be operational. The trial run between Begumpet to SR Nagar and Ameerpet interchange station are ready and the metro with three lines including Miyapur-LB Nagar, Nagole-Shilparamam and JBS-Falaknuma, covering a total 72 kms will ease the traffic bottlenecks and make commuting far easier for the city working class.
Regional Ring Road is another ring road project around the city from Sangareddy to Kandi that will ensure that the vehicular traffic in the Hyderabad metropolitan region will be a hassle free movement. It is a 90 meter wide (300 feet), 288 kms long road that connects the districts around the city of Hyderabad. It will also link major National Highways like NH65, NH44, NH163 and NH 765.
The NHAI has already awarded a detailed project report (DPR) for the proposed Nagpur-Hyderabad-Bengaluru Expressway. The 1,100-km-long expressway will pass through four states, including Maharashtra, Telangana, Andhra Pradesh and Karnataka and the cost is estimated at INR 35,000 crores.
In addition to these major infrastructure projects, there are many other projects that promise to decongest the city of Hyderabad in terms of traffic bottlenecks and vehicular movements. For example, Hyderabad-Aurangabad Corridor and the proposed Hyderabad Nagpur Corridor have the potential to completely change the urban landscape in the city.
By: Ravi Sinha