As Sobha Ltd stands at the top of Best Practices in Indian real estate, Ravi Sinha speaks to the father PNC Menon (Chairman Emeritus) and the son Ravi Menon (Chairman) to understand where they differ in perspective and what makes them stick to the core professional philosophy over such a long period of time.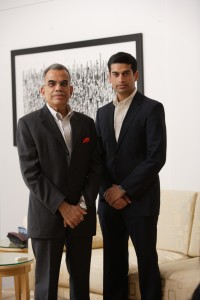 Ravi Sinha: What has been the outlook of PNC Menon about best practices when he started the business?
PNC Menon: Coming from interior decoration business, I had always believed in delivering world class quality. When I decided to enter India's real estate industry, I could clearly identify the gap in quality standards. As a result, I chose to build an organization that was more focused on creating a new, higher level of quality standards that India's real estate industry had not yet experienced. Driven by our backward integrated business model, which is unique world-over, and timely delivery, we have achieved this objective.
Ravi Sinha: With market dynamics changing fast what are the recent changes you have introduced Ravi to sync the company with emerging best practices?
Ravi Menon: Market dynamics are changing and we are aware that urban population is rising, more so in India. There is massive shortfall in infrastructure and urban housing. Due to climatic change and rising environmental concerns, more resilient buildings which are environment friendly will be required. There is also a perceptible change in the way people live, work and play. People are living longer; households are getting smaller; there is increased mobility; and of course technology is transforming the way people think demand the kind of homes they want and carry on with their lifestyle. Keeping all these in mind, we have taken new initiatives at Sobha to stay ahead of the curve.
Ravi Sinha: How easy or difficult it was to manage your brand reputation in the initial days? Do you feel the burden of often unreasonable expectations today?
PNC Menon: I believe that any brand is established by consistent delivery of quality within committed timelines. There is no additional burden of expectation, except, of course, the ongoing passion to improve quality standards on a continuous basis. 
Ravi Sinha: In today's digital world the buyers come together for mass campaigns. How do you differentiate between consumer activism and consumer blackmailing?
Ravi Menon: We welcome consumer activism and take up customer complaints/issues seriously and quite speedily as far as possible and deal with it with honesty and openness. We make efforts to understand their issues by adopting a personal approach and try to help resolve it. This signals to them that we value their opinions. This helps in managing expectations and reducing negative feedback.
In case of consumer blackmailing, we take the threat seriously but at the same time don't allow it to cloud our judgment. In such situations, the key is to remain calm and professional. We try to look at options available and take steps to find a reasonable solution. However, if the consumer is unreasonable, irrational or fake, we leave them to get exposed amidst other stakeholders to draw their own conclusions. We value customer feedback and strive to accommodate as far as possible. However, we do not engage or encourage consumer blackmailing, if any.
Ravi Sinha: The buyer has changed today and so has expectations vis-à-vis transparency and communication at each and every level. What is your outlook on this change over the years?
PNC Menon: We have always believed in and practiced a philosophy of 100 per cent transparency and communication, regardless of whether we are interacting with our customers, investors, employees or any other stakeholders. This philosophy has not wavered. In fact, this approach has been embraced by our Board and as such, we have strengthened our communication channels across both Sobha India and Sobha Middle East.
Ravi Sinha: Dealing with informed buyers has its own challenges. What changes you had to make in terms of transparency and communication?
Ravi Menon: We want buyers to be more informed and rather strive to make more relevant information available to them. If buyers are truly informed, they will be able to discern better and can take a calibrated decision on parameters of quality, timeliness and transparency. They would also become aware about our uncompromising business ethics, values and transparency in all spheres of business conduct, which have contributed in making us the most admired and trusted real estate brand in India.
We have a two way communication with our customers through our various touch points such as customer care cell, a dedicated customer portal and our interactive corporate website. These help us in making available uniform and consistent information to the customers round the clock. Additionally, a dedicated Customer Relationship Executive (CRE) is available for any clarification/information at all times. Even after hand-over, facility management department provides valuable support to our customers in maintenance related issues. 
Ravi Sinha: During your early days fiscal management was simple game of profit & loss account. Do you find it too complex now with company being listed entity  and hence burden of compliances?
PNC Menon: Prior to our IPO in India, we had developed internal systems and processes to enable sustainable growth, which helped us to adequately meet the challenges of the industry. Our experience with the IPO has only further strengthened the organization's ability to meet corporate governance requirements and stakeholder expectations.
Ravi Sinha: As the second generation did you ever feel the need to change the way fiscal management was traditionally being practiced?
Ravi Menon: We have been prudent in managing the finances from the very beginning by utilizing all our resources efficiently and keeping utmost transparency in our dealings. Post listing, we ensure that there is regular flow of correct information to all our stakeholders. 
Mastering the real estate cycles is key to our business as it is cyclical in nature. This has not changed fundamentally for us prior or post our listing. We have been able to use our capital wisely during different cycles primarily due to our integrated model which helps us to manage and control the supply chain to suit the changing conditions. 
Ravi Sinha: Scale to capacity mismatch is an inevitable reality of today's market when every developer wants to grow bigger. How easy it was in the initial years?
PNC Menon: Sobha delivers a fully integrated model of real estate development spanning multiple activities of design, engineering, MEP, joinery, glazing, joinery, landscaping and infrastructure. We have also carefully assessed the market potential for real estate in India and accordingly have created the required organizational capabilities. Sobha currently delivers 7 million square feet delivery per annum across India, across all product segments.
Ravi Sinha: How easy or challenging has been the transition when you took a conscious call to expand the scale and geographical footprint? 
Ravi Menon: With over 7 million square feet of area for the past 5 years (including real estate and contractual business), the company has sufficient manpower and machinery to increase its delivery capability, if need be. In FY16, we did around 11 million square feet which was the highest execution done by us till date. We have the capacity to scale up further.
We conduct our own market study and post assessment of demand, we launch projects. We have observed good absorption level in all our projects which almost gets sold out by the time projects get completed. Therefore, we are left with minuscule unsold inventory, if at all. In the last FY15-16 our unsold inventory in completed projects was only 0.18 million square feet; out of this, 0.08 million square feet comprised of the plotted development projects.
We do not wish to establish ourselves as an opportunistic developer and will never launch more than we can deliver. Rather, if projects and business opportunities do not fit with our overall values, we do not pursue it. For us integrity comes first. If we see that an opportunity may threaten our corporate values, we see it as an opportunity not worth taking. 
Ravi Sinha: The branding cost was peanuts during your early days, compared to today's multimedia age. Do you ever feel the company is nowadays spending more than necessary for image build-up?
PNC Menon: Regardless of sector or geography, brands get established only with consistent delivery of the product with the best quality and as per the committed timelines. There is a  growing need for organizations, including Sobha, to be seen and heard at various consumer touch points. Technology and especially social media facilitates this "connect" with consumers. We are constantly exploring new and innovative ways to leverage multimedia in order to raise our brand equity, not only at an organizational or corporate level but also at the project level. 
Ravi Sinha: Quest to be a brand instead of advertising to sell the project costs more. What is your outlook on brand management and its inherent expenses?
Ravi Menon: For us, our brand is very sacrosanct. People trust what existing customers say about the product that gives credibility to our brand. We rely more on the word of mouth publicity and consider our buyers as our brand ambassadors. This not only strengthens our brand image but also helps us sell better. Most of our customers are happy and they recommend Sobha Homes to their acquaintances and friends.
To engage deeper with our customers, we recently launched "Sobha Connect Program". We believe brand management does not entail a gloss of heavy advertisement alone. A brand gets made if the intrinsic qualities of the product are world class, guided by uncompromising work practices and ethics and has top end delivery excellence, peppered with transparency and trust. 
Ravi Sinha: Do you feel the heat of increasing peer pressure and competitive challenge today, compared to your initial days?
PNC Menon: No! From my perspective, the challenge has always been an endless pursuit of excellence. It is more of an internal challenge. As an entrepreneur, I have always believed in building a meritocracy-focused organization. This has enabled me to identify top talent from multiple geographies, industries and backgrounds. Furthermore, this selection of top talent at the management team or Board level has provided me with great comfort and confidence – and the transition thus far has been a smooth one.
Ravi Sinha: Ravi, being the scion of the family business, how much do you control the organisational decisions and to what extent you allow the professionals to take independent decision?
Ravi Menon: Sobha is known for being a process driven organisation which is run professionally. All our practices and processes have helped strengthen our bonding with stakeholders including our employees and build immense trust. We have at present about 2,800 professionals on rolls and we value and promote professionalism and merit. 
We adopt newer cutting edge management practices. The pack is led by one of the most able professionals in the Indian realty sector, Mr. JC Sharma, Vice Chairman & Managing Director, who is most respected name in the industry. We believe in empowering our people and there is enough freedom to innovate and add value to our existing processes. 
Ravi Sinha: Defining demand was not a challenge in early days with real estate being a micro market business. Now with the challenge of geographical expansion and destination development, do you feel the sector is clueless with due diligence mechanism?
PNC Menon: Real estate demand is primarily driven by population dynamics and economic growth. As each of our key markets in India have different demographic and social factors at play, real estate demand for each of our cities must be assessed independently.
Ravi Sinha: What kind of professional functioning you have introduced for decision making in terms of identifying market, defining demand and adopting technological and scientific processes?
Ravi Menon: We have adopted the most advanced construction technology and have followed scientific processes to deliver eco-friendly projects. Achieving the highest standards of performance in each of the three pillars of sustainability being the economic, environmental and social aspects is what we as a responsible organisation aspire for. Our buildings are designed to be energy efficient. The best green practices are followed in all Sobha's properties.
Today, facilities such as water recycling plants, solar powered lighting systems and organic waste converters are provided by default in most of Sobha's projects. These facilities help in significantly reducing maintenance expenses. Sustainable initiatives are taken not only at our construction sites but also at our manufacturing facilities where every attempt is made to keep the carbon footprint low by following the best industry practices.
Ravi Sinha: What is one desirable best practice that you find missing in the business today? 
PNC Menon: Real estate is inherently a cyclical business. Well planned financial engineering is a critical strategic element that enables real estate developers to be well prepared for downturns, which are bound to occur. Based on my experience, the real estate business should be structured with 60 per cent of the total capital as equity and the balance 40 per cent as debt. This discipline of maintaining a healthy and consistent debt to equity structure is what all major developers have come to appreciate. In my opinion, those that will achieve long-term success will treat this best practice as a top strategic priority.
Ravi Sinha: What is one desirable best practice that you would like to adopt to be first mover in the business?
Ravi Menon: We believe in honest, transparent, value-laden hard work. We wish all employees to become true brand ambassadors of Sobha, know our process, the way we do and why we do it. We believe if each employee becomes our brand ambassador, it will surely fulfill our twin objectives of strengthening the brand and help sell better. We are looking at ways to make each employee knowledgeable, innovative and committed. Rest we think, will follow logically.