Bottom Line It is true that for an average homebuyer it is difficult to ascertain whether the developer is really offering eco friendly homes. Ravi Sinha lists down some checklist for the buyers.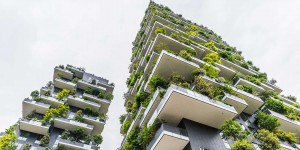 When Rashid Khan entered the sales pavilion of a developer he was not looking for short term discount but a long term benefit perspective. And hence, among the many queries that he volleyed to the sales staff was the porosity and density measurement of fly ash brick to be used for load bearing walls.
He was also enquiring about the method that has been applied to dimensional measurement and mass to determine density; measurement of increase in mass when soaked in water for a standard period. The sales team had no answer to what they termed as unnecessary detailing of technical questions.
However, this environmental activist had method into what the developer's team thought as madness. He was looking for environment friendly home. Though in the rural areas people have been experimenting this concept since ages with the use of mud bricks and other locally sourced natural products, the concept is in its infancy in the urban context, more so with the multi-storey apartments. This is notwithstanding the fact that green building as a concept has been over-used and abused in this part of the world.
"It is more to do with educating the homebuyers about the advantages of buying an environment friendly home. People feel they are comparatively spending a little more on buying a green home, but the lower energy consumption cost will be a permanent earning for the rest of the owners' life, once the payback period is completed. This payback period is project specific in nature which denotes the time period within which the additional capital cost can be recovered through energy cost savings and lower maintenance cost," says Khan.
"I was told by the developer that the project is green and he also presented his case with credentials of green certification. I was also showcased various certifications including LEED (Leadership in Energy and Environmental Design) certification of projects, to ascertain its green credentials. And I had no other means to check the claims than the certification," Anvita Kalra, a homebuyer shares her experience.
Key components of an environment friendly house 
Natural sunlight
Glass windows
Organic footprint materials
Waste management & Compost
Low energy consumption
Solar panel for geysers
Solar lighting of common areas
Rainwater harvesting
Waste water recycling
Green certification
It is true that for an average homebuyer it is difficult to ascertain whether the developer is really offering eco friendly homes. Green certification is just one of the aspects to look for in a housing project. A buyer should be ready with his checklist to understand whether the home is genuinely environment friendly that could lower his running cost over a long period of time.
Analysts suggest some of the aspects that could give a clear indication about the eco friendly component of the house. One should check for energy-efficient windows and doors, low-flow plumbing fixtures, digital thermostats, proper insulation, low-energy lighting systems, tank-less water heaters, sewage treatment plants, rainwater harvesting systems, dual plumbing to use recycled water efficiently, provision for natural lighting and ventilation. Even the earthy materials used on external façade can protect the building from heating.
After all, an environment friendly home is built with the combined principles of minimized manufactured material, reduced embodied energy, exploring nature and designing effectively. Educating the homebuyers is hence fist step and certain basic fundamentals should be handy for them while selecting their homes. For example, not many people know that vitrified tiles are cheap but these over-used tiles in apartments have high carbon footprint. Thatch roofs have lowest embodied energy but demand high maintenance.
The buyers can also check whether the developer has put in place systems that manage household waste and construction waste, reuse of salvaged material and recycling. For example, some of the developers are using garbage chute that collects the food waste of residents and transfers it to the compost machines to make compost for the green area maintenance. These are the features that really make a project environment friendly and the buyer can ask for these details in writing.
This also raises a fundamental question as to why should a homebuyer pay a little extra for environment friendly homes. Analysts believe apart from saving the planet with better surrounding environment and its eco system, a buyer has both the health benefits as well as financial gains.
There are quantifiable health benefits of these homes with natural lights and organic and chemical free building material, improved air quality and natural temperature regulation. In terms of the economic benefits, there are water and energy efficiency, low maintenance and high property value in the long term.