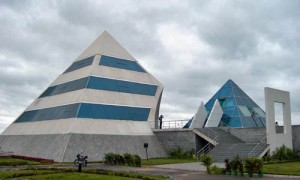 The Karnataka government has announced that Bangalore Helix, the much-awaited biotechnology park, has been awarded to Alexandria Real Estate, the highest bidder.
The government declined to disclose the amount of the highest bid and the identities of others who had bid for the project.
Chief minister BS Yeddyurappa handed over the letter of intent (LoI) to Vishal Goel, Managing Director of Alexandria, on the occasion of the 11th edition of the Bangalore India Bio, 2011.
"The project will be completed in two years and the work is going to start from October. We are listed on the New York Stock Exchange and have a good presence in the US. We hope to leverage this and invite companies there to set up their base here," Goel said newsmen.
Bangalore Helix will see an investment of Rs500 crore where the developer will be responsible for bringing in global companies to set up their offices here.
The chief minister said that biotech sector is in a comfortable position both in terms of growth and revenue. Yeddyurappa, who had promised Rs1-crore fund for 12 biotech schools across Karnataka, gave out cheques for Rs50 lakh each.
He highlighted the fact that Bangalore is home to five of the top 10 biotech companies in India.
Kiran Mazumdar-Shaw, chairperson, Karnataka Vision Group and CMD Biocon, said the world faces food shortages and spiralling healthcare costs, and there is over dependence on fossil fuels.
She reiterated that biotechnology is the future and India can deliver product for global benefit. "Partnering and collaboration is the way forward and it is not possible to grow in isolation," she said.
French ambassador to India Jerome Bonnafont said, "India is very important to France as a partner and back home we are giving extensive support to biotechnology firms. For instance, we have given exemption to companies in research as we believe that R&D should be tax free," he said.
Freddy Svane, ambassador of Denmark to India, said Bangalore was clearly the city of innovations. "I want to thank the queen (Kiran Mazumdar-Shaw) and invite her to our small kingdom. You are welcome to our kingdom," he said.