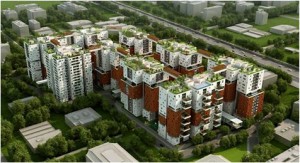 Track2Realty: SPR & RG Constructions have launched their flagship green-community project at Porur, adjacent to Sri Ramachandra Medical College. The project is conceptualised as a platform for all green lovers to congregate and live together as a community, in harmony with nature. Osian Chlorophyll claims to be a landmark residential project for Chennai, even as it raises the bar on green-consciousness and becomes a torchbearer for other builders to engage in a richer dialogue with our environment.
Nestled in the 9.44 acres of lush green foliage and a plethora of never-before amenities, Osian Chlorophyll has all that a nature lover could ask for. From the fresh air that is generated by the vast expanse of natural vegetation, to 42 eco-gardens, a 10,000 sq ft organic farming zone and private terrace gardens for a select few.
To create and foster a sense of community, residents are encouraged to participate in  gardening and kitchen farming, to supply to the community's own Chloro Store, a retail outlet that will sell the produce at subsidised rates to the residents.
While sharing his thoughts on the project, Hitesh P. Kawad, Managing Director, Osian Chlorophyll, shared, "Given the depletion of resources on our planet earth today and the alarming pollution levels that have ravaged the environment, adoption of greenery is a promising way to mitigate the environmental damage. With this landmark project, we look forward to adopting 'Green' as a way of life and making a huge difference to the community at large. Out of the 9.44 acres of land, 30% will be utilised for construction and the rest will be allocated for active gardening and farming. We believe that Osian Chlorophyll is not just a single project, but the prototype for an alternate way of living, and look forward to delivering more such projects that subscribe to the highest international standards on design, efficient construction techniques, amenities and, customer satisfaction, even as we stay as the green conscience of the city"
In an initiative to inculcate the idea of green living among its own employees and customers, Osian Chlorophyll conducts various interactive workshops on horticulture at their project site by inviting specialists to share their insights on creating private green patches incorporating native herbs and shrubs.