News Point: SOBHA has been recognised as the one of the Hot 50 Brands in Bengaluru under the category – Large enterprise by Paul Writer.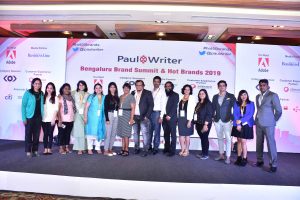 The awards ceremony was held in Bengaluru recently during the 4th edition of Bengaluru Brand Summit & Hot Brands 2019. The Hot 50 brands in Bengaluru acknowledges and honours brands for their outstanding brand marketing.
Speaking on the occasion, J.C. Sharma, Vice Chairman and Managing Director, SOBHA Limited said, "It is a very humbling moment for us to be recognised as one of the top 50 brands in Bengaluru under the large organisation category across sectors. This award reiterates our endeavour in building a strong connect with the stakeholders. Delivering world-class products on time at competitive prices has helped build our reputation and trust amongst our customers over the years."
The top 50 brands were selected on the basis of popular voting, which was followed by a diligent evaluation by the jury. The brand summit brought together the top leaders and decision-makers of the brands to discuss trends, debate ideas, and share knowledge. It concluded with the awards ceremony, recognising excellence in Bengaluru's brand marketing.
The jury for these awards included Rajesh Kumar, Vice President & Head of Marketing, (India Region) for UiPath; Sanjay Mehta, Joint CEO, Mirum India; Simi Sabhaney, CEO, Dentsu India; Rubeena Singh, CEO, iProspect; Hareesh Tibrewala Joint CEO, Mirum India; Githa S Heggde, Dean, IFIM Business School; Jessie Paul, CEO Paul Writer; Nirmalya Sen, CEO, Havas Worldwide; Tanay Kumar, Co-founder, CEO & Chief Creative Officer Fractal Ink; Sanjay Tripathy, Co-founder & CEO, Agilio Labs; Dhunji S. Wadia, President, Rediffusion Y&R; Mr. Abhijit Bhaduri, Founder, Abhijit Bhaduri & Associates; Aashish Chopra, Vice President, Content Marketing, Ixigo and Ashwini Deshpande, Co-founder & Director, Elephant Design.