Bottom Line: No other property market or sub-city has weathered as many challenges as Noida Extension, now rechristened as Greater Noida West.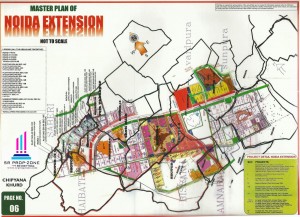 Starting as an affordable destination, derailed by land acquisition litigations, regained with price escalation and higher FSI & density norms, and finally scaling up from affordable to premium housing, no other property market in India has weathered that many challenges and constant image makeover as Noida Extension. It has now been rechristened as Greater Noida West.
Largely viewed in the collective consciousness as the most affordable market of Delhi-NCR, probably the authorities did no justice to this market by positioning it as yet another micro market to supplement Noida and Greater Noida. More than the controversies and the litigations, the positioning of the market has been a challenge.
It was created as an altogether different micro market than Noida and Greater Noida but was never conceptualized as a sub-city, despite of the master plan having provisions of everything that a sub-city would need, including office spaces, IT spaces, retail, entertainment hubs, educational institutions and other necessary social infrastructure.
Post the controversies and clearances by the Supreme Court of India that ordered extra compensation to the farmers and the authorities, in turn, granting additional FSI (from 2.75 to 3.5) to the builders, the Noida Extension is still looking for an identity. This is despite the fact that the new launches in this part of the world, of late, are as much in the premium category as in the affordable segment.
The authorities, on their part, rechristened the name of the market from Noida Extension to Greater Noida West (that sounds like Meadows West of Texas). However, the market is still looking for an identity of a sub-city where even the official pin code has not been allotted thus far.
The question today is that with the kind of supply that is in the pipeline will Noida Extension grow out of affordable tag. Vineet Relia, Managing Director of SARE Homes feels that with upscale projects coming up in some areas of Greater Noida West and with the Stamp Duty in UP having been hiked from five to seven per cent, effective 1 April 2016, flats in Greater Noida West are bound to cost more. In such cases, the affordable tag will not be applicable to all projects in this region.
"Earlier, the positive verdict from the National Green Tribunal on the Okhla Bird Sanctuary issue was a big boost for developers and flat-owners in the region. But since properties in this region are on lease, transfer fees and lease rent also come into play, pushing up the total cost of the unit. Now, with the two per cent hike in Stamp Duty, there will be a further increase in property prices and that will impact sentiment negatively, putting a question mark on the affordable tag," says Relia
Nikhil Hawelia, Managing Director of Hawelia Group points out that Greater Noida West is in line to deliver more than fifty thousand flats in the next three quarters and complementing Noida it will remain to be a destination for lower and middle income group. Majority of the apartment sizes in this region ranges from 700 square feet to 1500 square feet, whereas other adjacent sectors of Noida have 1200 square feet to 2500 square feet flats.
"Due to small ticket size and maintaining the equilibrium with Noida residential market, Greater Noida West will be considered as an affordable region for another couple of years. Initially the emphasis is always on meeting the basic needs and all construction and development works were majorly concentrated in fulfilling the required demand," says Hawelia.
Analysts point out that with time and growth and settlement of MNCs, corporate houses and big scale industries in the next few years, a sense of high-end luxury residential as well as commercial establishments would be inevitable. After second phase of delivery, which is another four to five years down the line, this region will surely have great potential to become the next preferred destination for premium projects.
However, while Noida Extension is showing all signs to organically grow premium and shed the tag of affordable destination, the market is still looking for its distinct positioning as a sub-city.