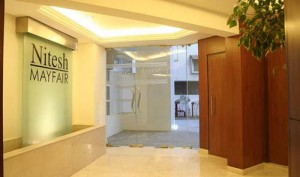 Nitesh Estates Limited has announced impressive performance for the financial year ended March 31, 2011 clocking a robust top line growth of 58% at Rs 144.06 crore (including other income) as against Rs 91.4 crore in the last fiscal.  The Bangalore-based company posted a higher net profit at Rs 12.19 crore compared to a loss of Rs 3.05 crore in the last financial year.
The company's EBITDA stood at Rs 20.2 crore, a growth of 108% as against Rs 9.72 crore. Nitesh Estates Limited was listed on the bourses on May 13, 2010.
The Board of Directors of Nitesh Estates at its meeting on Monday took on record the financial results of the company for the year 2010-11. The Board also recommended a 2.5% dividend based on the Company's performance.
Commenting on the results, Ashwini Kumar, Chief Operating Officer, Nitesh Estates Ltd. said "This has been a very good year for us as the company continued to consolidate its position as a premium developer. The company has achieved total sales of 1.14 million square feet."
"Our bookings during the year 2010-11 were 801 residential units. Within the last quarter we have launched two premium projects Nitesh Logos, which is an ultra-premium residential property and Nitesh Mall at the upscale Indiranagar locality in Bangalore. Sales have been steady and about 20 million square feet are under various stages of development. We are optimistic about our performance in the coming financial year too," he added.
Nitesh Estates Ltd has undertaken various projects in Bangalore, Chennai, Goa and Kochi and is present in the four segments of real estate – homes, hotels, office buildings and shopping malls. The work at the Ritz Carlton Hotel is in full swing and is expected to be ready by this financial year-end.