By Ashok Wankhade
Track2Realty Exclusive-II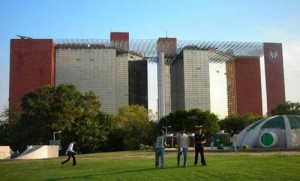 The IL&FS has LIC of India, State Bank of India, Central Bank of India, HDFC Bank as prominent shareholders. As per the reports IL&FS owned 4.05 per cent stake in Shahid Balwa's DB Realty. IL&FS Investment Managers Ltd (IIML) Vice-Chairman Shahzad Dalal was an independent Director in DB Realty and resigned from the board of directors only after the arrest of Shahid Balwa on February 8 last. He was on DB's Board since April 2007 representing IL&FS, whose realty fund LLC also has major investment in Balwa's company.
While the Rural Development ministry has denied any favour by its senior officials, what has emerged that IL&FS has been allocated three projects by the ministry against the norms of PURA.
The Rural Development Ministry has not only given three contracts to IL&FS under the PURA project (documents in possession of Track2Realty) but has also given money from the SGSY fund. This has been given for the Skill training for BPL youth. These schemes are STEPS, SESS and SELF.
Arvind Mayaram who is Additional Secretary and Financial Advisor in the Ministry of Rural Development claims that his son Abhinav Mayaram who is working with IL&FS Investment Banking which is part of IL&FS Financial services has nothing to do with the company getting favoured by the Rural Development Ministry.
Even if one buys the theory propounded by Mayaram,  it is surprising as to why Minister and Secretary not have ordered a probe after DB Realty and IL&FS links are well established into the Financial transactions between the Ministry and IL&FS.  Mayaram's son doesn't work in the division of IL&FS which has got all the Rural Development Projects. He works in the division where Shahzad Dalal Vice Chairman of IL&FS is attached and that's the IL&FS Financial Services. He was an Independent Director with DB Realty.
In a response the Ministry has said that the projects under reference were qualified by this ministry on the basis of appraisal and recommendations of an Inter-Ministerial Empowered Committee and not on the basis of any individual officer's decision.