Track2Realty Investment Magnet Report 2015 picks up 100 best housing projects across India.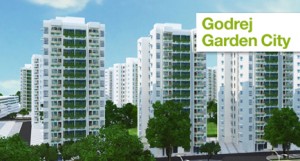 Location: SG Highway, Ahmedabad
Project type: 1, 2, 3 & 3.5 BHK Apartments, Villas & Row Houses
Price: Rs. 18.3 Lakh-1.2 Crore
Project execution lifecycle: July 2005-May 2017
Large townships are challenging within the municipal limits of major cities and yet there are certain projects that evoke the confidence level of the city planners, developers, investors and the homebuyers.
Godrej Garden City in Ahmedabad is one such case study where the self-sufficient township has abundant greenery and clean fresh air, yet conveniently located within Ahmedabad Municipal Corporation limits.
Currently, in its fifth phase of development the township spread over 200 acres of land proposes to house over 13000 with 40 acres of scenic landscaping & open areas.
The master plan has been created by Skidmore Owings & Merrill (SOM). It is a globally acclaimed design firm based in USA that has designed projects like Burj Dubai & upcoming One World Trade Center in New York.
Every facility from healthcare to banks, civic amenities and public utilities is being provided along with large open spaces and several recreational facilities. Children can have education at the world-class schools that are close to all the recreational facilities, all safely within the township.
Conveniently placed in Jagatpur, in the North-West region of Ahmedabad, Godrej Garden City is at a walking distance from landmarks like NIRMA University and BSNL Training Centre and is located just off SG Highway, which is one of Ahmedabad's fastest growing corridors. It has easy connectivity with all parts of the city, including the airport and railway station.
Track2Realty Rating: A
Location & Aspiration: 8/10
Physical Infrastructure: 8/10
Social Infrastructure: 7/10
Appreciation Potential: 8/10
Competitive Advantage: 8/10
Rental Potential: 7/10
Launch2Sales Ratio: 6/10
Construction Quality/Timelines: 7/10
Livability Index: 7/10
ROI Cycle: 6/10