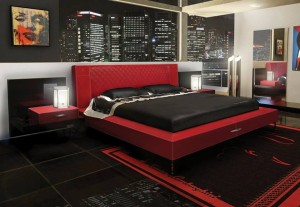 Track2Realty: Brys Group has unveiled the show apartment of its landmark project 'Brys Buzz', North India's tallest residential tower. UAE's leading Arabian Construction Company is building the iconic tower which is standing at the highest permissible limit of 292 meters with a towering 81 storey. The project is located at Sector 150, Noida.
'Brys Buzz', an epitome of featuring spectacular luxury includes interior designing by global benchmark design Tonino Lamborghini CASA of Italy, state-of-the-art home automation system and impeccable craftsmanship while conforming to stringent international green building norms.
ACC that has created iconic buildings that have transformed the skylines of numerous cities around the Middle East is the construction partner of North India's tallest residential tower, Brys Buzz.
Speaking on the occasion Rahul Gaur, CMD, Brys Group, said, "It is our flagship project and we have made all efforts to raise the benchmark of luxury housing in this part of the world. At a time when the Indians have emerged as largest property buyers across the Middle East and London, I feel Brys Buzz is the right answer to bring those luxury aspirant buyers back to India. Laced with world's best ultramodern facilities this premium luxury housing project is amalgamation of world's best names in the field of architecture, design and engineering. Right from conceptualization to execution, some of the best experts have put in their best to make Brys Buzz India's answer to what a destination address should be."
Brys Buzz boasts of unmatched design elements that ensure maximum utilization of area. It has been designed to provide maximum flexibility for internal space planning. One can get desired customized home with their choice of preferred facilities with a promise of never seen before super luxurious experience in this part of the world. Some of the features include; home automation, integrated entertainment system, high end finishes, huge balcony space and temperature control.
Navneet Gaur, Director, Brys Group explains how the project is a trend setter in this market, "In terms of location we are the first-movers to spot the potential of sector 150, Noida for such an iconic project. We believe the time has come when the Noida market is set to emerge as the new luxury destination. As far as project is concerned, Brys Buzz is going to redefine the concept of luxury as we have tried to ensure the real 'wow' factor comes out of this project. The incomparable features & amenities and never before seen exclusivity of this iconic tower will surely be liked by the connoisseur of luxury and choosing Brys Buzz as their home will make them proud."  
Spread over an area of 7.5 acres, the iconic tower is uniquely designed to enjoy the great scenic view. It comprises of 2 BHK + Study, 3 BHK Gold, 3 BHK Platinum, 3 BHK Villa, 3 BHK Duplex Platinum, 4 BHK, 4BHK Duplex, 5 BHK Duplex, 6 BHK and 6 BHK Duplex. The size of the apartments ranges from 3000 sq. ft. to 8250 sq. ft and the price of apartments starts from Rs. 12,500 per sq feet.
Everything about Brys Buzz strives to push boundaries in luxury living and eco solutions; be it maximizing use of renewable energy sources and conserving resources, from rainwater harvesting to solar efficient street lights, nothing has been overlooked when it comes to making Brys Buzz planet friendly.
The iconic tower is uniquely designed to enjoy the great scenic view. The Sky villas have unique rooms designed to offer panoramic views of the Noida Expressway and the city. All units facing Golf course/Expressway with 270 degree view.
The prominent features of the building are 6 levels at the top for all social activity needs, wide sundecks, terraces and balconies attached to living spaces, private plunge pools and terrace garden available in all residences with luxurious low-density complex (360 degree Open). 5 Star luxury services would be managed by hospitality division of Brys group. Highest observatory deck in North India, plush lounge and jogging track with a perfect viewing gallery perched at the top of Brys Buzz.
All areas of the project are accessibility compliant for elderly & differently-abled residents. 111 lifts with 11 high speed elevators, 1 lift for each duplex apartment, high speed elevators with efficient and state-of-the-art vertical transportation system for travel within the building with key card access system.
Fisher & Paykel brand ambassador, internationally renowned Celebrity Chef Ritu Dalmia and Sanjeev Wadhwa, Country Manager – Fisher & Paykel was also present at the unveiling.
Among other associates of Brys Buzz are H-AO Architects, Principal Concept Architect, Innowaves Design, Chief Architect, Arabian Construction Company as engineering consultant & contractor, MEP Consultant as Electrical System
Synchro Energy Consultants, PluMech Solutions as mechanical & plumbing Services, Bureau of Engineering Studies Consulting Engineers as structural consultants, Universal Consulting FZE as strategic consultant, Design Confidence as fire & life safety consultant and Lerch Bates Inc. as vertical transportation consultant.