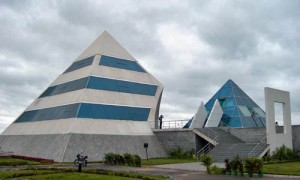 US-based real estate developer Alexandria's Indian arm — Alexandria Real Estate Equities Inc is planning to invest around Rs.500 crore to develop a biotechnology park in Bangalore.
This proposed park, which will come up at Electronics City, will be developed in two phases. While about Rs.500 crore will be invested in the first phase of development of the park, further investment will depend on the demand for space by biotechnology companies in the biocluster.
"We have formed a special purpose vehicle, Alexandria Labspace-Electronics City Private Ltd to set up the biotechnology knowledge park in Bangalore. The purpose of setting up the park is to provide good lab space to biotechnology companies, both from pharma and agri-biotech side," Vishal Goel, Country-Manager-India of Alexandria said on the sidelines of laying the foundation stone for the project.
He also said the project will be completely funded from company's internal accruals.
Alexandria has won the bid in May to set up this biotechnology park from Karnataka government, which has been leased to it for 60 years. The mandate of the park is to give state-of-the-art lab space to start-ups along with big companies in biotechnology sector to facilitate cutting-edge research and development.
"We have not started discussions yet with biotech companies. However, we are hopeful of getting a sound response from pharma and agribiotech companies for setting up R&D units in this biocluster," Goel added.
Indian biotechnology sector is expected to touch $10 billion by 2015 on the back of emerging opportunities in the various verticals, namely biopharma, agri-biotechnology, industrial biotechnology among others.
As per a recent survey by BioSpectrum and Association of Biotechnology-led Enterprises, the biotech industry has posted a 21.5 per cent rise in revenue to reach Rs.18,399.34 crore ($4 billion) in 2010-11 on the back of sound growth in biopharmaceuticals and agribiotech sector.
While biotech industry contributed Rs.17,249.34 crore, around 94 per cent of the total revenue; life science education contributes the rest Rs.1,150 crore during this period.
As per the survey, biopharma sector saw revenues of Rs.10,465 crore (about 57 per cent) and bioservices sector contributed Rs.3,246 crore. Meanwhile, the share of agri-biotech stood at Rs.2,480 crore, bioindustrials at Rs.626 crore and bioinformatics at Rs.252 crore in this period.
BioPharma vertical contributed almost two-fifth to the industry revenue, followed by bioservices with 18.82 per cent and bioagri with 14.38 per cent during this period.
Bioindustrials and bioinformatics made up the rest of the industry revenue," the survey said.
It also said that bioagri has increased its market share to over 14 per cent from five per cent in the last five years with five bioagri companies now being part of BioSpectrum-ABLE top 20 list.
The survey also pointed out that the industry derived 51 per cent of the overall revenue from exports in the last financial year.
It is to be noted that biotechnology industry, which is pegged at $4 billion; around 40 per cent is contributed from Karnataka.
"Bangalore hosts 52 per cent of core biotechnology companies in the country and around five top biotech companies are in the city. It shows the favourable ecosystem for biotechnology industry in the state. This park will add to our efforts to boost growth of this industry in the state," B S Yeddyruppa, Chief Minister of Karnataka said at the launch ceremony.
He also said that the state was about to open four biotechnology parks in various parts of the state.
Presently, the state is promoting biotech finishing schools in order to create skilled work force for the industry.
"Around 12 finishing schools are currently imparting required skill to the students for creating pool of employable professionals in the state," he said.
Referring to the development of biotechnology sector in the state, Kiran Mazumdar-Shaw, chairman of Biotechnology Vision group of Karnataka said that the knowledge park would be beneficial for promoting research work by start-ups.
She also said that the momentum should be maintained as far as biotech ecosystem is concerned in the state.