By: Ravi Sinha
Track2Realty Exclusive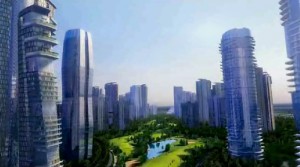 Beyond what is happening in the strategic board room meetings of realty companies, market is cautiously optimistic that with the inventories piling up, developers will sooner or later be forced to blink. A look at the recent developments in the sector does indicate that prices can come down, but it all depends on the builders holding power.
Property transactions have come down, while at the same time newly built properties have added to the inventory of unsold houses. A report by the broking house Jefferies says that property volume has declined by 32 per cent year-on-year. The report points out that rising prices and high interest rates are the main contributor to the slowdown. Jefferies expects weakness in the sector to continue throughout the year. The bigger worry however, is raising inventory.
Real estate volume has failed to pick up over the last almost one year now. Six of the seven leading cities recorded a fall in volume. Mumbai Metropolitan Region (MMR) saw the biggest drop of 50 per cent, followed by Gurgaon of 45 per cent, Hyderabad 34 per cent, Pune 32 per cent while Bangalore saw a drop of 12 per cent and Chennai a drop of 11 per cent. Kolkata saw a marginal rise of 1 per cent in volume sales.
Despite the fall in sales, property prices till date have been rising modestly in most of the cities. Gurgaon saw the maximum rise of 7 per cent over previous month and 32 per cent over previous year, while prices in MMR remained flat.
As a result of a drop in sales, new launches have slowed down too. All India, ex-Noida launches declines by 34 per cent in April 2012 to 22 million sq ft. Chennai and Pune saw a drop of 42 per cent; MMR saw a drop of 33 per cent, Bangalore a drop of 30 per cent while Hyderabad saw new launches drop by 37 per cent.
Despite a fall in new launches, inventory levels are at a high of nearly 18 months of average sales. Compared to this April 2011 had an inventory level of 13.3 months of average sales. Inventory levels in MMR (19 months), Hyderabad (31 months) and Noida region (23 months) are near their peak levels.
Some analysts believe the first stage of price correction has already started in newly developed projects in NCR and MMR. Freebies are being offered in the MMR region while discounts are being offered by NCR developers. There is pressure on the developers as most of them have piled up huge amount of high interest bearing debt.