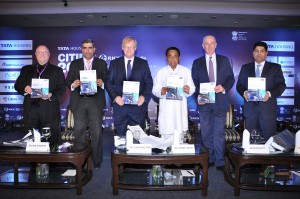 Track2Realty Exclusive: If Planning, Finance, Technology and Skills are the four key components of smart urban living, India lacks substantially on all the given parameters. While the world is increasingly moving ahead with real estate products adding smart quotient, in India the debate still hovers around unlocking land value & monetizing it after master plan of respective cities failed to adopt the successful global urban experiences. Track2Realty debates whether smart city ingredients should be optional reforms of real estate or made a mandatory provision.
When the European leaders met in September 2012 at Smart Cities Conference in Amsterdam to discuss how to create intelligent cities in an increasingly urbanized world, the focus was on developing low-carbon transport solutions, cutting-edge water/waste networks and renewable energy sources a priority as the continent looks to make its cities more pleasant places to live and more competitive destinations to invest.
Back in India, however, the urban planners seem to be groping at the entry level bottlenecks in that direction. The measures to unlock land value and monetizing it has just started, and that too as an option to meet fiscal challenges.
For long urbanization in this part of the world has been seen as a problem than a viable solution and hence improving land-use, easing congestion, maximising resource efficiency and reducing the environmental impact of our urban spaces been neglected till late.
Moreover, India'Äôs Shanghai dreams revolved around Mumbai and other metropolitan cities, where lack of urban planning and infrastructural bottlenecks left the dream of intelligent cities just that'ÄĒa dream.
The private developers no doubt have raised the bar in terms of India'Äôs urban living, their world view nevertheless have been confined to mere green buildings and energy efficient buildings while rapid developments in countries like China and South Korea have revolutionized the urban landscape with the introduction of what modern town planners call 'ÄėSmart City'Äô concepts. And they are not to be blamed for what is predominantly the prerogative of the government in terms of preparing the master plans.
Now that the master plans are ready for seven brand new cities spanning six states through Delhi-Mumbai Industrial Corridor (DMIC), the moot point is whether all the stake holders of India's urbanisation, realty developers in particular, are ready to take the smart city concept to its next level.
…..to be continued