Vibrant cities for vibrant economy-V
By: Track2Media Intellisearch
Track2Media Rank-4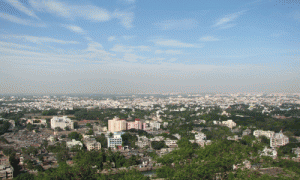 While many of the Indian cities are reeling under the apprehension of slowdown with sales nosediving, Pune real estate has defied any such apprehensions. Pune realty market is poised for growth both in the residential and commercial segment and is actually attracting premium for residential investment. The city is fast emerging as the new commercial capital of India as well.
The catalytic force behind Pune property market going northwards has been the shifting focus of IT/ITes to alternative destinations than just Bangalore. This traction has led to lot of construction activities in the central parts of the city, often being pushed up beyond their development potential. The focus is now in Pune's secondary and suburban markets where the highest growth potential for residential property lies.
Because of the increasing demand for homes by IT and industrial employees, most of the residential projects being launched in Pune are concentrated on the north-western and south-eastern side. Encompassed in these regions are areas like Baner, Aundh, Balewadi, Hadapsar, Kharadi and Nagar Road.
According to real estate consultancy Knight Frank India, the net absorption of space in first half of 2011 was 1.58 million sq ft as compared to 3.54 million sq ft in 2010. This is expected to jump to about 36.9 million sq ft by the end of 2011.
The market is growing for property despite substantial hike in property rates. In Kothrud, the increase in property rate has been from Rs 4,500 to 8,000 per square feet, in the last few years. In Baner and Deccan, property has been selling on an average rate of Rs 8,000 per square feet.
The demand for homes does not come from the IT sector alone. Pune's manufacturing sector, which features a number of international names, also drives residential demand. This fact has always given Pune's residential property market an edge over cities which have less diversified demand.
This also explains why Pune continues to figure among the most prime cities for residential investment in India. Though the growth of property values cannot be compared to that of neighboring Mumbai, Pune has the advantages of being a stable market with consistent demand coming from a number of strong and dependable business sectors.
Real estate consultancy firm CB Richard Ellis (CBRE) has said in its 'India Retail Market View-First Half 2011′ that Pune is among the markets that have witnessed most of the expansion activity in the year.
According to Jones Lang LaSalle India capital values on the Pune residential market appreciated by approximately 4-6% since the beginning of 2011, and are expected to appreciate by another 3-4% by the end of the year.
Anuj Puri, Chairman & Country Head, Jones Lang LaSalle India says, 'ÄúAs always, Pune'Äôs property market benefits from the fallout of Mumbai'Äôs effervescent economic climate as well as its own demand drivers. The city is already venue to many multinational manufacturing companies'Äô corporate headquarters. While Mumbai will continue to be the destination of choice for large financial institutions, Pune holds a lot of appeal for IT/ITeS-centric firms. Also, it is a preferred retirement destination for a large segment of Mumbai'Äôs mid-management cadre. In this manner, Pune and Mumbai are symbiotically juxtaposed to each other on the real estate map.'ÄĚ
Kruti Jain, Director, Kumar Urban Developers assert that Pune City has witnessed a massive inflow of population from various metros. In a short span of five years, Pune has undergone a lot of change in the infrastructure growth, making it the most preferred real estate destination.
'ÄúThe Pune city boasts of an international presence.¬†¬†Apart from BPOs and IT/Software Parks, Pune now features shopping malls, multiplexes, top-grade restaurants and hotels on a scale so far confined to cities like Bangalore, Mumbai and Delhi. Healthcare too has taken a quantum leap forward, with hospitals and diagnostic clinic of international standards catering to an enlarged, wealthier and more aware population. Now Pune has became a metro and on the investors eye. This creates a huge demand which gives a scope for more launches,'ÄĚ says Kruti.
Overall, the Pune residential market can look forward to healthier growth in the future. The city's road network, which was increasingly being challenged, is being enhanced with the addition of more access roads where they are needed the most. A number of malls are being launched in the eastern and the western parts of Pune, which will further enhance demand for homes there.
Advantage Pune
Holistic growth across asset class
IT/ITeS new destination
Bullish manufacturing sector
Cost advantage over Mumbai
Diversified demand