Artificial appreciation might be a pan-India phenomenon but Delhi-NCR defies all conventional wisdom of housing market.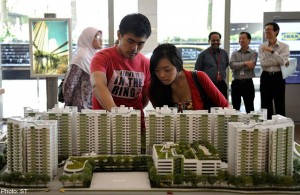 Pritam Yadav bought an apartment in Noida at Rs 3,000 per sq ft in an upcoming location three years back. The developer had then promised that the price will appreciate to no less than Rs 4,500 per sq feet within 18-24 months. It actually appreciated to Rs. 5000 within couple of years. However, circumstantial exit effort made him realise that the appreciation was only a castle in the air.
This doctor could not find any buyer at the appreciated price point. Forget Rs. 5000 sq feet price that the developer was advertising, he could not get any taker in the secondary market for even Rs. 4000 per sq feet. Even the developer refused to buy back at Rs. 1000 per sq feet lesser than what he has been advertising as his new slaes price.
"Some probing in the property market, however, exposed me to the reality that the developer had the bespoke marketing strategy for his investors and under-writers, to book profit during the construction stage of the project. With his cartel of under-writers the developer had sold nearly 40 per cent of his inventory at a discounted price of Rs 2,500 per sq ft, thus, making them book a profit of nearly 20 per cent by the launch period itself," says Yadav.
Thereafter these under-writers who had bought nearly 40 per cent of the inventory were for all practical purposes controlling the marketing strategy.
The under-writers were actually pushing the price point upwards through advertisements. These under-writers in the process were offering the discounted and lesser price to the end-users. The gullible homebuyers took it as a golden catch on the face value of these momentum traders.
This artificial appreciation in property prices is whatr really is the bane of property markets of Delhi-NCR. It is not that other property markets are not exposed to this kind of unfair trade practices. Yet, the track record of Delhi-NCR is worst on this count. Not surprisingly, a recent report by PropEquity also points to the fact that cities in the NCR occupy the bottom rankings in the list of investment destinations, with Gurgaon at the 10th position and Noida, Ghaziabad, Greater Noida and Faridabad at 11th, 12th, 13th and 14th positions, respectively.
Developers use artificial appreciation to offload inventory and get liquidity. It also helps them to retain nearly one-third of the apartments and sell it only when they manage to manipulate a sharp appreciation in property prices.
Requesting anonymity, a Noida-based developer agrees that the market practices leave him with no other option. According to him, the cartel of under-writers is so very strong that one just can't do business without their support.
"Initially I tried to maintain distance and hired my own sales team in-house. But then these brokers/under-writers are more visible in the market. They created such as bad mouth for us that I had to compromise with them. I actually offered them 1% more brokerage than my in-house sales team," admits this developer.
A survey by Track2Realty in ten housing markets, including Delhi, Noida, Gurgaon, Ghaziabad, Faridabad and Chandigarh, found that home buyers blamed the nexus of over ambitious investors, speculators and under-writers for the price index shooting up, and often, leading to a collapse in the market.
When developers announce that new projects have been completely sold on the day of launch itself, it defies conventional wisdom of economics in a market where beyond the demand-supply gap, stands the gigantic issue of affordability. The homebuyers are hence asking today whether there is any regualtion that can stop this unfair trade practices. More importantly, what is the indicator of real appreciation if they wish to exit?