Track2Realty Investment Magnet Report 2015 picks up 100 best housing projects across India.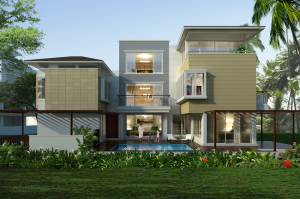 Location: Cavelossim Beach, Goa
Project type: 4 & 6 BHK Villas
Price: Rs. 6.6 Crore-10 Crore
Project execution lifecycle: December 2012-December 2017
Some of the projects hold the potential to by synonymous with luxury and when the location itself is all about luxury & lifestyle the project turns out to be brand driver for the developer.
Nitesh Fisher Island falls into such exclusive zone of luxury living that elevates the excitement of a South Goa escape and redefines luxury with a water front development, located on the serene banks of the River Sal.
On this mystical island, along the serene banks of River Sal, the project offers stylish premium villas with private infinity pool – all ensconced amid lush tropical foliage, overlooking the infinite expanses of the waterfront.
Equipped with a lavish clubhouse, world-class fitness centre and other premium amenities, each villa is provided with a personal concierge service from Quintessentially, the world's leading global luxury lifestyle group.
International architects CPG and interior design firm Warner Wong have designed the project that is spread across 9.3 acres with 36 luxury villas to give an awe of exclusivity to the residents.
The property is designed to include everything that pampers the soul, mind and body. It is for those jet-setting people who are looking for a resort-like experience. Its proximity to hospitals, reputed schools, colleges, banks, supermarkets and specialty restaurants make it a dream destination.
Track2Realty Rating: A+
Location & Aspiration: 9/10
Physical Infrastructure: 8/10
Social Infrastructure: 8/10
Appreciation Potential: 6/10
Competitive Advantage: 8/10
Rental Potential:5/10
Launch2Sales Ratio: 6/10
Construction Quality/Timelines: 7/10
Livability Index: 9/10
ROI Cycle: 5/10