Track2Realty Exclusive
Bottom Line: It is ironic that Mumbai that is home to highest number of Ultra High Net-worth Individuals (UHNIs) is struggling to recover from slow sales.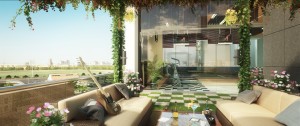 It is a known secret that the riches of the world park their money in real estate. Across the world the cities that are homes to ultra rich are known to outperform in luxury housing. In the academic circle this issue has constantly been debated in the last few years and now the Knight Frank Wealth Report 2016 has yet again brought this issue to the forefront of public discourse.
The report says that Mumbai is home to the highest number of UHNIs in India, followed by Delhi. Currently, Mumbai, the financial hub of India, has 1,094 UHNIs and Delhi houses 545 such individuals. It expects the number of such wealthy people to double to 2,243 in Mumbai by 2025. In Delhi, UHNI count is estimated to reach 1,128 by that time.
'ÄúAmong Indian cities, Mumbai leads the pack followed by New Delhi. Going forward, Mumbai will continue to maintain its number one position, but the rate of growth in UHNI population will be marginally higher in New Delhi than in Mumbai,'ÄĚ says Samantak Das, Chief Economist at Knight Frank.
Quick Bytes
Mumbai home to highest Ultra High Net-worth Individuals in India
Mumbai ranking 21st among 97 cities having UHNIs
Mumbai has 1094 UHNIs
By 2025 UHNIs in Mumbai expected to be 2,243
Mumbai's Numero Uno positioning
Mumbai and Delhi stand at 21st and 33rd positions among 97 global cities having UHNI population. By 2025, the ranking for the cities are projected to go up to 14th and 29th spots, respectively. The number of billionaires (with $1 billion net worth or more) in India has surged by 333 percent to 78 persons in the past ten years. In 2006, there were 18 billionaires in the country.
During the same period, India's UHNI count increased 340 per cent to 6,020 persons, while the number of such rich people went up by 61 percent to 187,468 globally, the report says. 'ÄúIndia will account for five per cent of the total UHNI population and six per cent of the billionaire population across the world by 2025.'ÄĚ
This obviously raises a fundamental question as to why this wealth is not finding its way into housing market in general and luxury housing in particular. After all, the growth of luxury housing in Mumbai is even slower than the growth of overall housing market of the city.
Tide turning after slowdown
Vineet Relia, Managing Director, SARE Homes maintains that the real estate industry in the last few years has been going through a recessionary phase and Mumbai has been no exception. The market has also been dampened by the stringent lending norms as well as hiked interest rates on home loans by Reserve Bank of India (RBI).
However, it may be noted that according to a recent report, home sales have actually risen by about 15 per cent in the October-December quarter across India's top eight property markets, with Mumbai Metropolitan Region (MMR) clocking the best performance.
'ÄúMMR was the highest contributor of sales of homes both in the ultra-luxury and luxury categories in the previous quarter. Therefore, it may not be correct to say that investment by HNIs in the real estate has gone down.¬† According to a survey, residential real estate accounts for a quarter of the average UHNIs investable wealth, while commercial property investments make up 11 per cent. It is also to be noted that the average number of residential properties owned by wealthy Indians is 4, which is higher than the global average of 3.7 and 3.9 in other Asian countries,'ÄĚ says Relia.
Harjith D Bubber, MD & CEO, Rivali Park says it would not be right to say that luxury real estate segment in India is not translating into home sales. The last decade has witnessed a demand for luxury housing in India. The luxury real estate is still in a nascent stage and will see a vibrant change in the forthcoming years. The Ultra HNIs and super rich have invested extensively in the luxury real estate segment in areas of South Mumbai and Bandra.  The HNIs or super rich are always cherry picking the projects with international standards and are iconic.
'ÄúThere are certain projects in BKC and in Worli which have portrayed super luxury and the HNIs and super rich have bought in these projects. It would not be right to broad brush that the super rich have burnt their fingers with real estate. There have been certain projects that have not been completed due to some regulatory & financial issues but those numbers far very few as compared to the finished and successful projects,'ÄĚ says Bubber.
Luxury properties profitable?
Hiral Sheth, Director РMarketing, Sheth Creators also asserts that it would not be true to say that the Indian luxuries residential market it not being profitable to the investors. Mumbai being the commercial capital, one popular topic of conversation is the real estate developments and prices. According to her, India's luxury real estate market offers the HNIs and super rich mindboggling options in high-end super luxurious and niche housing market. The reviving economy has infused a renewed sense of confidence among the ultra HNI homebuyers and there has been a significant surge in demand of high-end luxury homes.
'ÄúThe ultra HNIs and super rich are always on a look out for new projects and have astute eagle eye for ultra luxurious townships. Indian market is at par with the foreign market when it comes to the luxury and ultra luxury homes and townships. With the swift and speedy pace of urbanisation there has been a huge change in the lifestyle and disposable income among successful people having high net-worth and riches. Possessing a luxury home with ultra modern facilities is a matter of eminence 'Äď and why not,'ÄĚ questions Sheth.
Final cost & benefit
Despite of slowdown and slow sales in general and luxury housing in particular, most of the analysts in the Mumbai are not ready to subscribe that the Ultra High Net-worth Individuals have lost interest in real estate. They maintain that it will not be incorrect to say that subdued growth in real estate sector in past few years has had an impact on the psyche of investors and they are looking at some other avenues for investment as a precautionary measure.
A closer look at the investment portfolio of most of the ultra rich also indicates that the expanding interest for properties in India is way ahead to stocks and gold. Moreover, properties have the privilege and benefit over gold of being an asset of significance that rises in utility and value. HNIs being foresighted and wanting to have a distinguished 'Äėperforming resource'Äô consider investing in luxury homes as¬†a quintessential opportunity that guarantees status symbol, long term assets appreciation and attractive returns on investments.
Market conditions notwithstanding, it is therefore expected that as the number of UHNI increases in Mumbai, it will be catalyst to the growth of real estate in general and luxury housing in particular. The indications, as of now, might be misleading due to various factors.