Track2Realty Exclusive
Bottom Line: It is challenging to be an objective real estate journalist when the business environment and media realities are constantly forcing to create a mutual appreciation club. Â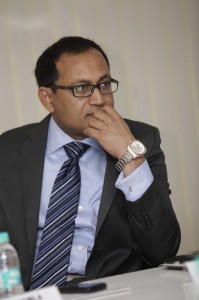 It was 9 AM in the morning and the repeat ring of call bell forced me to wake up. It is not easy for a journalist to leave bed so early after the occupational hazards of late night assignments. I opened the door with visible anger on my face, only to find a smiling PR guy whose smile actually made me even more angry.
But wait! The real anger was yet to come when he offered me a packet sent by his client – a builder. It was not Holi or Diwali; not even New Year or my birthday that the whole world nowadays gets to know, thanks to the necessary social addiction called Facebook.
"What is that?" I asked. It was
hold your breath! A gift that an ordinary journalist like me can not afford with hard earned money – an expensive Rolex watch. "Would like to speak to your client," I said calmly.  This has been a prominent real estate developer and I had only last week done a negative review of one of his luxury property. My expose against his buyers' grievances had also not gone down well with him only recently. And hence the gift was a surprise, if not shock, to me.
I asked the builder as to what prompted him to this largesse. Pat comes the reply, "a very small token of friendship." I wondered when did we become friends. However, I said politely but sarcastically, "It will take time before we become friends." Smart answer over the other side of the phone says "please keep it as a token of love from your younger brother. Had got one more piece for another journalist friend and so…" Younger brother? The man is at least 20 years older than me.
At this point of time I wanted to cut short the conversation. And hence a curt "No" was the best that I could think of.  "I think you should test the waters before throwing your cards boss. You can't throw wild cards everywhere." A brief pause over the phone at the other end and then a breaking voice, "Ok. Sorry."
This is not a one-off incident when a real estate journalist faces the dilemma of not accepting the beyond one's purchasing capacity expensive gift from a builder against whom one is writing on a routine basis.
It is not that I am not conscious of the media reality in this sector where even the press conferences are organized to dole out expensive gifts and even cash gift vouchers. Hence, it is not easy to be a journalist if you want to practice your profession with certain amount of dignity and professional pride. The fellow journalists do not want to be seen with you. How come you are not having tribal instincts while being part of the same tribe is something that is often a question in their eyes.
Dilemma of journalism 
If you don't have a price tag, you are of no use in an eco system where survival of the most corrupt is the mantra
From tempting one's personal integrity to marketing pressures, it is not easy being an objective real estate journalist
You are out of the journalists' tribe if you don't have tribal instinct to accept gifts and bribe
For a builder it is the price tag that alone defines the value of mutual appreciation club with the journalist 
Once the marketing head of a leading Gurgaon-based developer told me, "You don't know my boss. He can change your life if he likes you." I kept wondering that in the last nearly two decades of my career when none of my editors could change my life how come a builder would do that. I nevertheless wanted to make a fund of it and hence asked, "You mean he will gift me a house?" "Well, if only you add value to us. He is always generous to people who are beneficial in general and journalists in particular," said the man with certain level of inquisitive look in his eyes, as if judging whether I can be bought or not.
These are the instances where you are directly being approached with a price tag. Then there are other indirect pressures through the necessary survival mechanism of media – the marketing.
A Noida-based developer once asked the marketing guy that he is ready for a cover jacket of Track2Realty Brand X Report if only his company figures into Top 3 of the yearly brand rating. The marketing guy definitely thought he had made a great deal for the company. "Ask them to give this offer in writing," I said knowing that the developer would be either smart enough to understand what I mean or else if he will make a fun of his brand. The developer proved to be smart. I am deliberately not using the word cunning.
A Mumbai-based builder told me that his PR agency has conveyed that I am very blunt journalist who does not entertain them. "Thank you," I said with certain degree of pride, "I am very satisfied with my kind of identity. It adds to my credibility as an objective journalist. I might be blunt many a times but never pointless. I will be really ashamed the day anyone said that I can also be managed with or without a price tag."
Another marketing head of a Noida-based developer where the CMD is known to take a moral high ground on industry issues and is a champion of developers' cause, told the marketing team, "Ask your editor to call me if you want advertising business. Other editors come to us." Such overt & covert messages not only tell me a lot about the lack of professional practices, forget best practices, in the sector but also lack of integrity on part of those editors who go for ego massage to these second and third rank hierarchy of builders.
"I know my PR team could not respond to your editor's queries on time but then he should not have blasted the PR team," said the brand custodian of a developer. Incidentally this brand custodian of Noida-based builder claims to have worked with one of the leading TV news channels in Delhi. "Excuse me! Your builder might have delayed the projects for 7-8 years as a matter of this chalta hai (its ok) attitude. But journalism does not give liberty to such delays for inexplicable reasons." I can just wonder what kind of journalism this gentleman might have done in his television career.
I can understand the primitive human instinct of survival of the fittest. But as a real estate journalist I am yet to learn how to live with the modern reality of 'survival of the most corrupt'. After having weathered pressures ranging from personal temptations to marketing pressures, I often think I am not fit to be a real estate journalist in today's world of mutual appreciation club.
Names of respective builders have been withheld in this diary 
By: Ravi Sinha