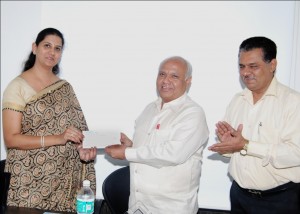 Track2Realty: Maitreya Realtors and Constructions and A.R.C., an association of Real Estate Consultants have entered into an strategic alliance. For Maitreya Realtors, this strategic tie-up with A.R.C. is a significant beginning to maximise the potential of development in Nashik and serve interests of all the stakeholders i.e. real estate players, real estate consultants, business community as well as the masses at large.
The alliance amalgamates the expertise of experienced members of ARC in getting people of the nearby areas to know about Maitreya's projects and also ensure harnessing of underlying business opportunities for them.
Currently, the footfall ratio for projects in Nashik is 70 percent from Mumbai and 30 percent from Nashik. The Maitreya – A.R.C. alliance is aiming to increase this ratio, the productivity and footfall for multitude of projects in Nashik in a win – win situation.
Varsha Satpalkar, CMD of Maitreya Group says on this occasion, "The Real Estate Consultants look forward to make a healthy business relation with us due to the goodwill they have in the market and most importantly the legal aspect of the project has no obligations."
Keeping up with its commitment to inclusive and sustainable development of the society, Maitreya Realtors and Constructions Pvt Ltd. and A.R.C. made a profound beginning through the alliance to garner a deeper interest in Nashik's holistic development from the business and real estate community.