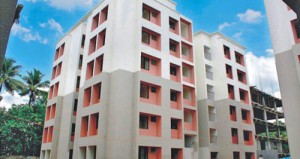 The promoters of the real estate company Apple A Day, linked to a housing scam have filed for bail, and the mother of one of them has also filed an anticipatory bail application in a sessions court in Kochi.
The developments come on the heels of reports that the real estate company failed to deliver apartments that had been promised to hundreds of clients.
Earlier, the promoters of the company, Saju Kadavilan and Rajeev Cheruvara had moved the Principal Sessions Court in Kochi for anticipatory bail, but the applications were turned down. They then filed an appeal before the High Court. The bail application is to be heard by the court next week.
Saju Kadavilan's mother filed for anticipatory bail, pointing out that police were visiting her house and that she perceived she too could be made a party to the case. Her bail plea will also be considered by the court next week.
The revelation that the company is in financial doldrums has come as a big blow to hundreds of home aspirants in Kerala, and many others who are living and working abroad, who had invested in apartments promoted by the company. Police have reportedly filed more than 70 cases against the promoters, acting on complaints by investors who say they have been cheated, and that the company had not delivered any finished apartments in the past few years.
The denial of bail to the promoters by the sessions court is only small consolation for the investors, who fear that it may be a long wait to either get any refund of money from the realty company, or see the apartment of their dreams completed by the company.
The court had observed that the bail application could be considered if a security worth Rs1 billion (Dh81 million) was provided. The accused claimed they needed only Rs310 million to complete the projects on hold, and that they had received confirmation from two banks that they would extend the necessary credit to complete the projects. The court, however, rejected their bail plea.
Local media reported that several middle and lower-income families were feared to have lost money because they were lured by the company's offer of homes that came at an economy price of Rs1 million per unit.