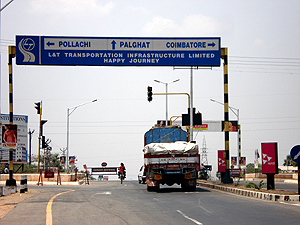 Track2Realty Exclusive: Rajeev Dash, a textile exporter from Chennai was on the lookout for a plot in Coimbatore from where he could procure the textile stuff. However, his search for an easy entry to the local market with anticipation of availability of low cost property met with a surprise. The brokers in the local market showed him a number of properties, but none below the not-so-believable crore plus figure. This made him wonder whether he is negotiating in the Coimbatore market or the property agents are taking him for a ride.
On a closer look, however, made him realise that this pocket of Coimbatore commands as high premium as many other regions of the Country and Coimbatore does not necessarily means low cost property market. If you think Coimbatore property market is only meant for affordable projects with moderate ticket size, probably you have not been exposed to the property markets around the Coimbatore Bypass.
It is one of the costliest property zones not only in the city but even from the standpoint of national average. The Coimbatore Bypass refers to a series of bypasses connecting the various National Highways and State Highways passing through and originating in the South Indian city of Coimbatore. No wonder, it is one of the most sought after location for business class.
The zone has historically been an industrial belt before it came into prominence with the Coimbatore City Municipal Corporation undertaking the construction of six rail-over-bridges in the city.In 2008, the State Highways Department came up with a proposal to create a Ring Road passing through Peelamedu Road, Kalapatti Road, Saravanampatty Road and Kurumbapalayam Road to help decongest Avanashi Road, Mettupalayam Road and Sathyamangalam Road.
The 12 km road was aimed to extend from the South India Textile Research Association (SITRA) Junction in Peelamedu, going through Kalapatti Road and connect Sathyamangalam Road at Saravanampatty and then to further connect Mettuppalayam Road at Kurumbapalayam.
The 28 Km long Coimbatore bypass was built and commissioned by L&T Transportation Infrastructure Limited under the first road privatisation scheme that was implemented in South India on BOT (Build Operate Transfer) basis. The bypass road takes off On the Salem side of the National Highways 47 at Nilambur and rejoins it on the Palghat side near Madukkarai.
The nature of property market in the region has undergone major change in the last few years due to bypass road. Known for only having industrial establishments not so long ago, today it has a mix of property though commercial establishments still dominate the region.
As per a study, there are 36 per cent commercial plots/land, 27 per cent residential plots/land, 9 per cent warehouses/godowns, 9 per cent independent houses, 9 per cent farm houses and 9 per cent agricultural plots/land in this zone. The prominent nearby localities are Eachanari, Malumichampatti Village and Malumicham Patti.