Project: Myst – 20 acre, Eco-Luxury Residences
Developer: Tata Housing Development Company
Location: Village Kalth, Near Kasauli, Himachal Pradesh
Price: Rs. 3.5-14 crore
Project execution lifecycle: July 2015- December 2017
Conceptualisation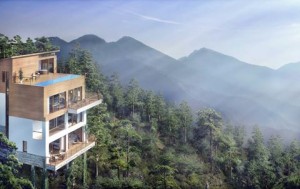 Myst has been conceptualised on the basis of in-depth understanding of both stated and unstated needs of our customers. For the project Tata Housing has conducted Qualitative Research followed by Focus Group amongst a niche audience on the location, theme and project architecture. The design was finalised post integrating the design elements as suggested by the consumers.
Driving force
With an aspiration to delight the homebuyers Tata Housing wished to provide quality life spaces through continuous innovation, and in the process they conceptualised India's first residential development designed using biophilic architecture. It is an approach that brings residents closer to the pristine nature of the Kasauli Hills, while presenting them with every luxury. This exclusive gated community has been designed by the world's leading expert in sustainable architecture, Llewelyn Davies Yeang. Located on a high promontory, Myst blends contemporary design seamlessly with the unique ecology of the area.
Drawing board to on-ground
It took Tata Housing around 6-9 months for the project to hit ground after the entire planning process was complete. Tata Housing claims that as a standard operating procedure, they conduct both primary and secondary market research before signing any new project. So, they conducted an in-depth analysis of the demand supply ratio along with the development potential and expected infrastructure development of the project before hitting the ground.
Defining demand
In order to define the demand in this market the company got into concentrated and focused market research to determine consumer needs and then the project was designed and implemented according to those preferences. They claim to have noticed an increasing demand for holiday homes in the Hills of Kasauli and thought that Myst would be a perfect fit blending contemporary design seamlessly with the unique ecology of the area.
Challenges
Landscape design has been a key challenge in order to create a place of high built density for people; those are also rich in wildlife. At least 30% of the area left over after deducting the building footprint from the site area will be soft-scaped. All open parking areas will be planted in the space between parking slots with fast growing varieties such that will provide shade when fully grown. To make the site better for the less common and more threatened native species of plant and animal than it is now, species planted shall be selected from local native species and those capable of resisting drought.
Insights
Tata Housing realised that heat islands is a critical area of concern. Choice of roofing materials and greening of roofs was estimated to reduce heat island effects. Roofing material other than turf therefore has to be selected of high albedo material and high SRI. To avoid or minimize damage to sensitive ecosystems and despoiling of landscapes Tata Housing hence adopted best practice norms for infrastructure construction like planning the services according to the site gradients and then superimposing the Masterplan for effective functioning.
Market feedback
Tata Housing's Myst has witnessed an overwhelming response from consumers across the country. The developer has already managed to sell more than 50% of the available inventory within the first two years of the launch.  Myst has been conceptualized and designed with the specific purpose of offering a new dimension to luxury living. For this they claim to have employed the practice of pilot testing, comprehensive research of the market and the landscape and then testing the concept before launching the formal project. The property has witnessed an overwhelming responses from Indian buyers as well as the NRI community. Testament to this is the recent online sale of a Rs. 5.5 crore villa at Myst.
Project differentiator
Myst is an exclusive gated community that blends contemporary design seamlessly with the unique ecology of the area. The eco-luxury residences, born from a joint venture between Tata Housing and Impacts Projects, are an organic addition to the magnificent Kasauli Hills — the result of a blissful blend of luxury and splendour, adding a new dimension to the luxe life. Easily accessible, Myst is located on a high promontory — a hill top with gradient — and is a mere 65 kilometres from Chandigarh, the city of Le Corbusier. Surrounded by the lush indigenous foliage of a pine forest, Myst is a way of life — in harmony with natural beauty that is both pleasurable and sustainable.
Investor outlook
As against the general perception of investors buying in luxury second homes, Myst has received an overwhelming response from the end users. Being the only project created on the principles of Biophila, a design ethos to create grand living spaces that are invigorating, inspiring, and comforting with the nature. Biophilic design lessens stress and  enhances  well-being  as  our  minds  and  bodies  gravitate  towards certain configurations and  natural layouts. With flowing water, green roofs, and airy open living spaces, Myst eliminates stark distinctions between built up structures and natural surroundings.
Marketing strategy
Tata Housing has adopted a 360 degree marketing approach for the marketing and since this is one of the most luxurious projects, they had a perfect blend of outdoors at strategic locations, print advertisement with leading dailies and constant burst through the premium online websites. Along with the above mentioned routes they have also invested a considerable amount of money through sponsorships of on-ground events in the micro market and creating a storng reference scheme for our customers.
Hits & misses
Tata Housing has implemented multi-channel sales strategy with a proper mix of brokers, online portals, customer references and company sales team. This has resulted in a positive word of mouth amongst the prospective customers leading to incremental awareness and sales.
Learning
Projects created basis the needs and requirements of the consumers will be in demand irrespective of market conditions.
Launch2Sales ratio
Despite the fact that Myst is a niche project to fulfil the aspirations of a segment that desires luxury living at par with international standards, Tata Housing has sold 50% of its villas and continues to receive an encouraging response.