Track2Realty Exclusive
Bottom Line: Real estate preferred over gold by women on this Gudi Padwa festival.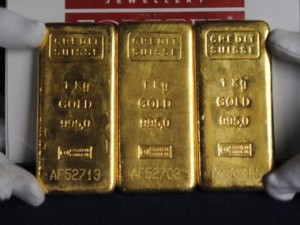 Gold and real estate have been two most sought after investments in India. While the men preferred to invest into physical asset of property, the quest of women has traditionally been for gold. However, on the eve of Gudi Padwa this year in Mumbai, women seem to have taken a conscious call to be pragmatic and understand the long term value of holding a property. As a result, women in general and single women in particular seem to be a major catalyst in the housing market of the city.
Suchitra Sen, a single woman in Mumbai is a compulsive shopper of gold jewellery. The festivals are ideal time for her and on each and every festival she buys one or the other jewellery product. However, on Gudi Padwa this time she has taken a conscious call to invest in real estate. The media reports on the strike in the jewellery market has somewhat dampened her spirit with the precious metal.
"I feel this is not the right time to invest in jewellery. The real estate looks quite attractive at this point of time. The kind of properties that are available today at the attractive price point and loaded with discounts & freebies make real estate worth an investment now. May be post the festive spirit when the economic outlook is even more positive the property price will go up," says Suchitra.
The analysts tracking the market in this part of the world are not surprised. They maintain that for the last few years the trend is changing and gold has slipped to alternative choice and definitely not the first choice of young women. They prefer to have real estate in their portfolio.
As a matter of fact, women nowadays are rather selling their gold jewellery to invest into real estate. The city of Mumbai is full of working women and they understand the value and worth of investment in terms of the Return on Investment (ROI). Hence, there is less emotional connect for the gold now.
The evaluation of historical data also suggests that while gold has appreciated with a Compounded Annual Growth Rate (CAGR) of 12-13 per cent in the last over three decades, the CAGR growth rate of residential property has been no less than 17-18 per cent.
It is hence no surprise that single women are nowadays a major demand driver in the metropolitan cities like Mumbai. The women who are professionally doing well and prefer late marriage or no marriage prefer to have a house of their own. It is the better security than gold; something that also saves them from hassles of answering to landlords about the reasons of their single status.
Take the case of Rachita Verma, a lawyer by profession, who is buying her second house on Gudi Padwa this year. She feels the lure of gold no longer attracts professional women like her. It used to be a security for women who were married in traditional societies but does not hold true in modern context.
"Had it not been strike of jewelers, I would have rather sold some of my jewellery at this point of time. The price of gold is relatively higher now and from here the chances of appreciation is not that high. I personally believe women should be more rational than emotional about their holdings and better invest in real estate nowadays," says Rachita.
The strike of the jewelers has further tilted the sentiments in favour of the real estate today. This is seen as more safe investment at this point of time. Moreover, traditionally the Indians have shied away from controversial investments where the controversy could lead to price volatility. And hence, gold is clearly losing out to real estate across the Mumbai Metropolitan Region (MMR).
In a nutshell, while the trend of women preferring real estate to gold is not new, the strike in the gold market this year has ensured that real estate in Mumbai hits gold on Gudi Padwa this year.