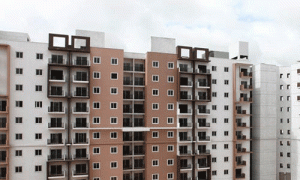 Equinox Realty,an arm of oli-to-steel conglomerate Essar Group,plans to sell a minority stake in its biggest commercial asset in Mumbai to raise between 7.5 billion rupees and 10 billion  rupees, sources close to the development said.
Equinox is in talks with several international and domestic investors, including an arm of Singapore's Government Investment Corp (GIC) GIC.UL and India's Infrastructure Development Finance Corp to sell a stake in Equinox Business Park, sources said.
"We are exploring opportunities with private equity players who can bring in strategic inputs and partner in our growth and expansion plans," Equinox said in a statement, declining to comment on a potential deal size or buyers.
International private equity firms, mainly from the United States and Europe, have invested $13 billion in the Indian real estate sector since 2005 and are expected to exit from up to $5 billion worth of investments over the next couple of years, according to property consultancy Jones Lang LaSalle.
A GIC official could not immediately be reached for comment. An IDFC official declined to comment.
Equinox's 1.2 million square foot business park will be fully developed by the end of the year, and the company is looking to use proceeds from a partial sale to invest in other opportunities, the company said in a statement.
The park is 45 percent occupied by tenants paying rents between 175 and 200 rupees a square foot a month, the company said.
Domestic private equity firms like Indiareit Fund Advisors and Red Fort Capital, which are on the road to raise funds to invest in the Indian property sector, have said they are looking for opportunities to invest in income-producing assets like commercial offices.