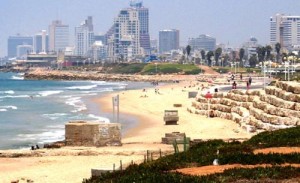 Israeli conglomerate Elbit Imaging and its subsidiary Plaza Centers NV will make fresh investments of at least $500 million to develop real-estate projects in India. The Tel Aviv-based mall developer wants to build a diversified real-estate portfolio in India, consisting of residential, office and retail projects.
Elbit India Plaza Management Services is close to signing its first residential, joint-development project in Thiruvananthapuram on an 11-acre parcel of land. It will develop the project with Pune-based Panchshil Realty and a local builder. Elbit India real-estate project is located in Kharadi near the Pune airport.
Elbit entered India in 2006 and has since invested about $400 million to buy land in central and southern Indian states, said Oren Kolton, country director for Elbit.
As part of its previous investment in the country, the firm also is developing two projects in Pune—a shopping mall on its own and an office-space-and-retail center with Panchshil Realty. The estimated investment in the two projects is around $200 million, Kolton said.
Elbit, in the past three years, also has revised a number of its proposed projects. It is building 1,000 mid-priced apartments in Thiruvananthapuram in a space initially meant for a shopping mall. A 45-acre island property off Kochi that it was to develop through a joint venture has been put on hold.
In future, the company plans to develop projects in cities such as Bangalore, Chennai, Pune and Thiruvananthapuram through strategic partnerships.
"The group views India as a long-term growth engine, which will begin to generate positive cash flows in 2012," Kolton said.
Another Israeli realty firm, Levinstein Project Management India, also is looking to expand its presence here.
The company, which also had ventured into India a few years ago, has two projects in the country—a large residential development in Mysore and a slum redevelopment project in suburban Mumbai.