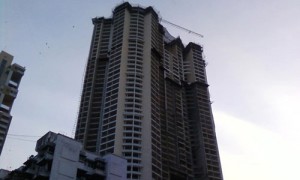 Dynamix Balwas (DB) Realty, the Mumbai-based realtor, has decided to buy upto 49 per cent stake in its hospitality arm, DB Hospitality Ltd, an unlisted arm where the promoters hold a majority stake.
The promoters of the company, Vinod Goenka and Shahid Balwa, own 80.92 per cent in DB Hospitality Ltd, while the rest is owned by private equity funds, including IIRF Holdings VIII Limited and Mauritius and IL&FS Trust Company Limited.
Last year, Trinity Capital (Seven) Limited, Mauritius, exited its stake from the hospitality business. It was not clear whether funds will exit their stakes or promoters will reduce their share in the company.
R Sridhar, Group Director, said: "The board has approved an investment upto 49 per cent in the hospitality business and we will do it in a timely and phased manner. We have already hired a big four international property consultant (IPC) to do the valuations and one of the big law firms to draw the plans. We will not raise any debt for the same. The stake buy out will enable both the funds and the promoter an opportunity to exit."
According to analysts, the transaction will be fructified in the next 15 days or by the end of the month. DB will also focus on commercial and hotels business.
DB Realty does not own any stake in the hospitality arm at present. It had invested around Rs.200 crore last year in D B Hospitality which will now be converted into equity. The company will invest an incremental amount of Rs.500 crore which will be divided into two tranches. In the first tranche, it will spend Rs.300-400 crore and another Rs.200 crore in the final stages. The total investment will be around Rs.700 crore.
DB Realty is also planning to sell non-core assets to fund the acquisition. Sridhar said a few firms had been hired for selling the non-core assets that have already been identified.
DB Realty witnessed a 33 per cent fall in its consolidated net profit to Rs.41.14 crore for the quarter ended June, against Rs.61.84 crore during the year-ago period. Net sales for the period fell 16.33 per cent to Rs.221.5 crore in the first quarter of this financial year, against Rs.264.7 crore in the corresponding quarter last fiscal.
Sources said the assets such as hospitality assets and land parcels, including the marine drive property and two projects in central Mumbai. In Q1FY12, the company had sold 24 per cent in D B Hotels Pvt Ltd internally and 100 per cent stake of DB Properties Pvt Ltd.
D B Hospitality operates 900 rooms in four hotels. The properties in Mumbai and Ahmedabad are managed by Hilton Worldwide. They have one hotel in Rajasthan and one in Goa. The company plans to operate 2500 rooms in the next four years. It is also working on setting up five properties with Chicago-headquartered Hyatt Hotels Corporation. The properties will come up in Mumbai, Pune, Mundra (Gujarat) and Goa.
D B Hospitality Limited, Mauritius (DBHLM), owns 100 per cent of the hospitality arm DB Hospitality Pvt ltd. The promoter's have pledged 27 per cent shares of DB Hospitality Pvt Ltd. Their 5.8 crore equity share holding is lying in an escrow account with ICICI Bank Limited for securing a loan of $138 million by the parent hospitality arm.
DB Realty has booked sales of 0.6 msft for the first quarter of this finanical year, where transfer of development rights or TDR sales have contributed to 0.5 msft and apartment sale of 45-50,000 sft.