Track2Realty Exclusive
News Point: While the policy makers in India insist the need for green development, various government agencies contradict each other on the same.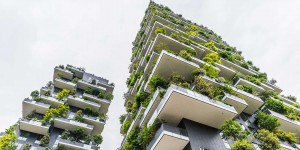 Urban habitation at the cost of environmental concerns have globally been debated and contested. In India the environmental concerns have often stalled big-ticket infrastructure projects and the government also vows its commitment to encourage the eco friendly and sustainable developments. However, some recent decisions have exposed the gap between the lip service of the policy makers and their commitment to the cause of eco friendly and sustainable developments.
A reality check would expose the double speak of the policy makers:
A Environmental Interest Litigation (EIL) in the National Green Tribunal (NGT) against the proposed Pune Metro Rail project strongly objects to the alignment of some portion of its route through river beds
For Delhi-Mumbai Freight Corridor project, 58 acres of the Mumbai's green lung Рthe Sanjay Gandhi National Park (SGNP) Рwere de-reserved. The project will denude Thane of over 16 hectares of green cover at its northern end
Thane Municipal Corporation (TMC) is completing another proposal that will strip SGNP bare of over 26 southern hectares, to make room for a road
In NCR lakhs of apartments were allowed near Okhla Bird Sanctuary through the MoEF notification 
These are some of the high-profile cases that appeared in the media limelight. The fact is that even more number of such conflicting development reports across the country suggests that the policy makers have thus far failed to evolve a development model where the compulsions of urban habitation do not comprise with the environmental concerns.
It clearly suggests that there is dichotomy at a policy level – where on one hand the need to be environment friendly and use green construction methods is reiterated, and on the other hand the decisions are taken on the contrary.
Vineet Relia, Managing Director of SARE Homes agrees that being a developing country, India has opted for the sustainable development model that aims to strike a balance between the need for economic growth with environmental protection and social equity. As a country, India cannot afford to slow down its pace of growth given that basic needs like housing and electricity for all still remains a distant dream.
'ÄúAt the same time, we have to ensure that the growth is environment friendly and does not harm the natural habitat. We need to have all processes and regulations in place to do away with any harmful impact of the project on environment and the ecosystem. Are we really so short of habitable land in urban India that we need to compromise with the stated policy in principle of eco sensitive developments?,'ÄĚ asks Relia.
Manju Yagnik, Vice Chairperson, Nahar Group maintains that India is at a stage of rapid infrastructure development and there may be times when we initiate projects for overall development of the country which may be contradictory in nature at the policy level. The important aspect to note is that the government has framed policies keeping in mind protection of our natural habitat and safeguarding our green cover.
'ÄúPresently, infrastructure development and housing are one of the main thrust areas of the government and therefore such projects undertaken are in line with these policies. Most projects are undertaken only after detailed research is done based on various parameters like financial viability, location advantage, connectivity, convenience etc. We believe that such projects are not undertaken with the intention to destroy nature but keeping in mind the overall development of the country,'ÄĚ says Yagnik.
Availability of habitable land in urban areas is definitely a concern given the rising demographic graph. However, projects proposed in eco-sensitive areas need to be thoroughly evaluated before they are approved. As the smart cities plan has been rolled out, experts call for better planning where the existing and new cities should be developed on the principles of sustainable living.
In principle, no one would deny the need to maintain balance between development and environment. But where they lack is in introducing green and clean technologies in order to minimise adverse effects on ecology and environment as a result of development. Energy efficiency and clean power should also be the goal for all industries, not just real estate.
Environmental analysts point out that if natural habitat is being destroyed due to development of such projects then the government should look at alternate methods which will help in preserving and developing the green cover. Along with the development of infrastructure and housing, the government should also consider alternate methods to restructure and rebuild green covers.
There are innumerable occasions when projects have to pass through green areas as this is the shortest route available which results in shorter travel time that also reduces cost to the exchequer. And it brings the catch 22 of development for the policy makers.
By: Ravi Sinha