Track2Realty Exclusive
News Point: Bhiwadi has carved its niche as the best market for senior housing.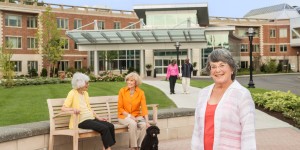 When Ramakanth Sharma bought an apartment in a senior housing project in Bhiwadi it was more to do with the affordability than the concept of senior housing. As a matter of fact, the friends and family advised against buying an apartment with such a concept that gave an impression that their children would refuse to take care of them in future. Sharma himself had no plans to settle over there and it was just an investment that his pocket allowed.
Between 2007 to 2004, the developer on his part continued to invite him on various community engagement programmes at the project. Even though there were initially only a few senior citizens shifting prmanently, he really liked the idea of seniors having a get together. And hence, when his son took up a job in the USA, he decided to pack his bags and move to Bhiwadi's senior housing project.
It has nevertheless not been an easy move since his wife carried the impression of living in an old age centres. However, soon the couple understood the advantages of the senior citizens having the luxury of living a dignified life in their own homes, with a neighbourhood of the same age group and with all the necessary facilities like the healthcare etc available on the door steps.
Bhiwadi, as a matter of fact, has been the first town to conceptualise what is the most need-based housing in India. Facts speak for themselves. There are 98 million people over 55 with a steady growth of 3.5 per cent per annum. In terms of market numbers, in an analysis of 135 urban cities with a total population of 223 million and 52 million households, as many as 12.8 million families have senior citizens.
Bhiwadi facts
Bhiwadi first mover in senior housing segment of India
Affordable senior housing & quality lifestyle catalysts to success
Bhiwadi experiment was globally discussed for providing lifestyle to senior citizens
Bhiwadi success dispelled the myth of senior housing being old age homes
The old age dependency ratio stands at 12.6 from 10.6 in 1991. According to the United Nations data, India would have 118 million people over the age of 60 years by 2017.  The market size of retirement homes is expected to be pegged at Rs 4,000 crore by 2018.
Some of the developers in Bhiwadi could spot this opportunity and made it a case study in India. Thereafter a number of developers experimented senior housing in various parts of the country. However, only a few locations like Bhiwadi, Coimbatore, Pune could be case studies due to proximity with the main centre and better climatic conditions, along with the execution of the project in right spirit.
Brotin Banerjee, MD and CEO of Tata Housing nevertheless feels that the concept of senior living is slowly gaining traction, but unlike in the West it will take a bit longer for this market to mature here. However, with the breakdown of the traditional concept of families, and with an increase in disposable incomes, this senior community is gradually inclining towards this idea and accepting it without any social stigma attached to it. Today's globe-trotting consumer is demanding for an active lifestyle post retirement.
"Buyers for senior living homes are self-sustained retired/about-to-retire people (or in the age group of 50 and above), those whose children reside away from them or outside India, senior NRIs accustomed to such facilities in developed countries and now returning to their home country. Research suggests that demand for such senior homes is over three lakh units in urban centres and currently, only 3,000 units are available in the market," says Banerjee.
One fundamental reason why senior housing succeeded in Bhiwadi is the price point. The fact remains that all the senior living projects in Bhiwadi are positioned at the affordable segment, bearing in mind the fact that the end consumers are senior citizens with limited resources and no sources of regular income.
As Ramakant Sharma points out, "If such projects would be costly, most of the retired seniors would not be able to afford. I think the way Bhiwadi shaped up as an affordable market and the developers had been foresighted to spot the living solutions for people like us, it became a success story."
Call it the emerging lucrative market or simply making a market differentiator  by providing house for a cause, but senior living has definitely been the market identity for Bhiwadi. And Bhiwadi model is today being replicated across the country. The data by Jones Lang LaSalle India indicates there are about 30 more senior living projects in the pipeline in India. Of the senior housing projects, seven are in Bangalore, three in Chennai, three in Goa and various single projects in other cities.