News Point: 4th phase receives OC on completion before promised deadline of October 2017; Raheja Universal receives OC for 4th project in a row before deadlines.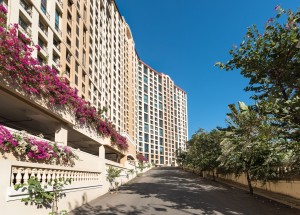 Raheja Universal has beaten the RERA and GST deadline and received an occupancy certificate for Raheja Exotica – Sorento, the 4th phase of their ultra-luxury project Raheja Exotica located at Madh Island.
Sorento had a delivery date of October 2017 but received its OC in April 2017. As the project has received the OC, customers buying a ready-to-move-in property from them will not have to pay service tax and VAT (or GST, as and when applicable) which amounts to a saving of a minimum of 5.5% on the base cost.
Expressing his views on the same,¬†Ashish Raheja, Managing Director, Raheja Universal, said, "Raheja Exotica – Sorento is an offering that brings together our years of experience in combining great quality and superior offerings along with exotic locations that provide the buyers an experience that is unparalled. This project evangelizes the second home concept to buyers who get the advantage and benefits of a city, sans the perils that come with a home situated outside the city.'ÄĚ
He added, "The principle of delivering on time and keeping our buyers happy is something we constantly strive for as is reflected in our other projects that have been completed well within the promised deadlines. Raheja Universal has benchmarked luxury living concepts and continues to go all-out in delivering homes that enhance the lifestyle of our customers."
'Raheja Exotica РThe Ocean City' at Madh Island, Mumbai carves out one of Mumbai's most luxurious edifice 'Raheja Exotica РSorento' in the midst of an entire township project developed across 22,000 sq.mt. of magnificence. The opulence is mirrored through an elegant designer cluster of ownership villas, condominiums, and modern styled apartments. 'Raheja Exotica РSorento', has a fresh grandeur breathing beauty and serenity beyond the fast and furious pace of life.
With state-of-the-art amenities, 'Raheja Exotica РThe Ocean City' is well connected to the mainland. The serene expanse of the Madh Island is mapped and connected to Versova by ferry, along with 25 minutes of drive through greens by road from Mindspace, Malad (W). With life and infrastructure in Mumbai getting upgraded at a fast pace, there is a proposed bridge connecting Versova to Madh reducing the travel time of the affluent travellers' to half. Also, the proposed Coastal Road is perceived to make south Mumbai more accessible and bring Madh
Island even closer to mainland Mumbai. Equipped with 37 amenities in five demarcated branded zones to provide a holistic lifestyle, The Ocean City promises consistent extravagances in all aspects.
The amenities provided to residents in the project include operational club house, swimming pool, rejuvenating spa, squash court, Cafe Lagoona, gymnasium, well-equipped business centre, multipurpose banquet, games room, high-end security services, 24/7 assistance, housekeeping and laundry, food court with kitchen, supermarket, medical centre etc. The five zones include Ocean City park, Club Exotica, Vista – The Sky Avenue, Score – The activity zone and DownTown – The town centre.
For a lifetime experience and to retire into the lap of luxury, the twin towers of Raheja Exotica – Sorento create extravagance with hi-rise above 36 storeys into the sky. The towers with 376 apartments are spacious and perfectly styled in configurations of 2 BHK (843 sq ft carpet onwards), 3 BHK (1119 sq ft carpet onwards) and 4 BHK (1828 sq ft carpet onwards) apartments that promise to give a spectacular view of the calm and peaceful Arabian Sea.
The luxurious project offers 2 BHK starting from INR 1.85 Crore. Spacious 3 BHK is listed at INR 2.25 Crore and 4 BHK in the grand scheme of design stands at 3.33 Crore onwards. It is specifically designed by keeping the second-home concept in mind pleasing the achiever and affluent.