When exposed IAC said they are unaware of his background, later admitted it was temporary funding to be returned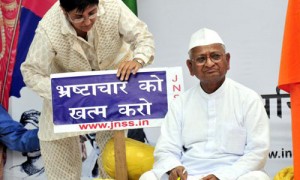 After much talk on accountability and morality in public life where Anna Hazare repeatedly called for donations through cheque and draft to ensure clean money coming to the Lokpal cause, Team Hazare finally accepted money for his Anshan by a small time Mumbai builder. When exposed first they denied having any knowledge of the business background of the donor, only to later admit that it was a temporary funding to be returned.
It was a filed day for media persons after it was revealed that the rent and deposit for Team Anna's agitation was paid for by a small-time Mumbai developer.
Activists of India Against Corruption (IAC) had a tough day getting information about the developer, and clarifying that the money was taken from the said person only because it was an emergency.
According to information accessed from the Mumbai Metropolitan Region Development Authority (MMRDA), the rent and deposit was paid by the builder Himanshu Shah.
Shah runs a real estate consultancy, Kashmira Constructions, from his Kandivli office. Although Mayank Gandhi of the IAC Mumbai team was sure that Shah was his 'Äėtrusted lieutenant'Äô, he was taken aback when a section of the media reached his office asking about the Himanshu Shah.
'ÄúWe took the money from Shah as he has been with our organisation for a long time now. It was not going to be possible to get demand drafts from the Public Cause Research Foundation (PCRF), which is in Ghaziabad, on Friday evening. As we were running out of time, Shah offered to help and got us two demand drafts from Cosmos Bank (Vile Parle branch). However, I am not aware of his business. We have close to 700-800 volunteers in Mumbai. I do not know what each one of them does for a living,'ÄĚ said Gandhi.
Investigations revealed that the Kashmira Constructions office is in Versova, Andheri. However, when news persons visited the place, he found no office by the name.
When contacted, Shah said that he has an office in Kandivli and that he has named his firm after his wife.
'ÄúI am an honest tax-paying businessman and want to help Team Anna. I used to work in Vile Parle earlier and hence I have a bank account there. I decided to help IAC members when I realised that PCRF was not in a position to pay the amount on Friday evening,'ÄĚ said Shah.
'ÄúShah'Äôs money has been returned to him on Saturday,'ÄĚ said a press statement issued by the India Against Corruption.