News Point: Investment infused for ORB & Cape Town projects in Sec 74, Noida.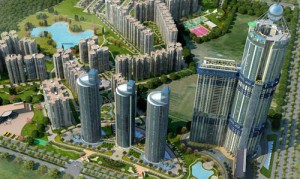 Altico Capital has invested INR 430 crore in Noida project being developed by Supertech.
This is Altico's first investment with the group and is largely towards the development of Supertech's Capetown project in Sector-74, Noida, which incudes ORB and CapeLuxe Towers while a part of the funding shall be utilized for refinancing an existing lender.
Sector-74 is largely a residential sector and part of a well-established residential micro-market, which is well connected to the Noida Expressway as well as Noida City Centre. The project is also located close to an under construction metro line that connects to Noida City Centre on one side and Noida Expressway towards the other.
Sanjay Grewal, CEO, Altico Capital said, "We are very pleased to partner with the Supertech Group which is one of the largest real estate developers in NCR, having delivered more than 40 million sq ft of residential and commercial projects, with the significant focus on development in NCR."
Announcing the investment, R.K. Arora, Chairman, Supertech Ltd said, "It is a matter of pride to partner with Altico, one of the largest foreign owned and controlled NBFCs, in the country.  This investment will enable us to deliver our projects in Sector 74 of Noida, with an aim to deliver ORB within 18-24 months.  At Supertech, we continuously strive to bring value for all our stakeholders.  This partnership is in line with our vision to fulfil the commitment of delivering the best."
Supertech Capetown is one of the largest Group housing project of NCR with 8000 residential unit. It boasts of all modern facilities and amentinites – 100-Bed Hospital, Senior Secondary School, Community Facilities, Convenient Shopping, Health Clubs etc. within the development.
Capetown is an advanced stage project totalling around 11 million sq ft; of this around 5.5 mn sq ft has been delivered and possession has been handed over for over 4,300 units. The project has various components, ranging from mid-ticket to premium and luxury residential apartments, along with some retail space.
Altico's funding is for a part of the Capetown's luxury phase, totaling around 2.3 mm sq ft spread over 7 residential towers including ORB and CapeLuxe, as well as completed retail inventory. With this funding, such portion of the project shall attain significant financial closure. This will help the group further expedite construction of the project.
ORB, is a circular shaped 40-storey project that has been designed by the eminent interior designer Twinkle Khanna that sets new benchmarks and redefines the dimensions of design and luxury.  These circular shaped luxury residences are sprinkled with a riot of colours and textures, seamlessly blending with contemporary large spaces to create a captivating world to call your own.
Portraying a heterogeneous union of art, science and technology, the apartments have an extraordinary structural delicateness and an incredibly precise equilibrium.
Supertech Group is currently developing multiple projects in NCR, ranging from affordable housing projects under the PMAY Scheme to ultra-luxury residential condominiums and villas as well as commercial and retail developments.
The company recently announced that it has become hundred percent RERA compliant, with all its ongoing projects registered with the authority. Supertech Group has delivered more than 22000 homes in last 3 years and working towards the target of achieving delivery target of 10,000 homes year ending March 2018.