Track2Realty Exclusive
Bottom Line: If you dream of a sea facing property but can't afford in Mumbai, Alibaug is your destination address.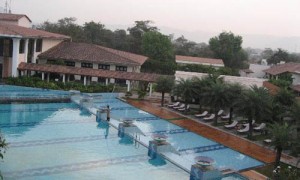 A home by seaside is a dream for anyone and if one can not afford it in the main city of Mumbai as the first house, there is a globally emerging lifestyle destination of Alibaug; a city of beaches, forts, temples and innumerable coconut trees. It is a favourite destination of the huge fans of lifestyle with a difference.
One can discover the magic of spacious living just 2.5 kms away from the tree lined Varsoli beach. The vast water stretches in Alibaug lures with the promise of dreamy, somnolent afternoons, punctuated with lazy sips of cool coconut water and snacks served hot on the beach. The temples located up in the ghats soothe all those who make an effort to attain solace.
Alibaug has always been the traditional weekend getaway destination for space starved people of Mumbai and also Pune, of late. Approximately 90% of the catchment belongs to Mumbai, while around 10% belongs to Pune.
Alibaug's home-owner corpus has a heavy contingent of HNIs, NRIs and public personalities like industrialists and film and theater artists. Most of these are based out of South Mumbai and find Alibaug to be a very convenient location to commute to.
Alibaug an attractive dream destination:

Alibaug has always been 1st choice as weekend home due to connectivity with South Mumbai

NRIs & HNIs buy second home in Alibaug for quality lifestyle

Alibaug is equally attractive destination for Pune holiday home buyers

Alibaug's natural surrounding have beaches, forts, temples and innumerable coconut trees
Since the late 1990s, it has emerged as the most sought after second home destination. Its proximity to Mumbai, the availability of seashore and the possibility of unwinding in low-density housing in natural environs make it attractive as a holiday home destination.
The demand for second homes has escalated commendably in the last over a decade now. Buyers are looking to invest in properties that offer the richness of nature in various forms and are easily accessible by various modes of transport.
Row houses in Alibaug range from Rs. 70 lakh to Rs. 2 crore, bungalows range from Rs. 1.25 crore to Rs. 7 crore and plots from Rs. 10 lakh to Rs. 2 crore. The appreciation potential though is huge keeping in mind two Special Economic Zones that are being developed. This includes a new port (at Revas) and a new road which will reduce the distance between Alibaug and Mumbai to about 50 kms.
"Alibaug is seen as a location mostly for the second home of Mumbai because of a number of factors. It has got 11 beautiful beaches, added to a great weather. It has lot of greenery, proximity to South Mumbai via sea root and proximity to suburbs of Mumbai via road. There are historical places like forts and temples that add to the scenic beauty. Secondly, the future economic activity in this location is what is making the micro market a magnet for investors. Lot of big developers from Mumbai, investors and industrial houses have realised great future potential of Alibaug and are investing heavily in Alibaug," says Santosh Naik, CEO of Disha Direct.
This sylvan seaside getaway has been a hit among active weekend travelers, and those looking for a spiritual retreat. From eye soothing greenery, soothing sea beaches and a pleasant atmosphere to excellent architectural creations, delicious food and quirky sand beaches, Alibaug is an enthralling second home proposition. Second homes in Alibaug are gradually emerging as the new investment route that promises higher returns.
Some analysts, however, believe the prices will see sharp restructuring in Alibaug once actual end-users get active in the second homes in the region.
Facts speak for themselves. The plots in Alibaug that were being sold at Rs. 250-300 per square feet till 2007 are today being sold at Rs. 1200-1400 per square feet and that shows this market has not only appreciated sharply but is ready to see the next wave of property rally as well. This property appreciation has been amidst overall slowdown in and around Mumbai property market.
"There are no two opinions about the attraction quotient of Alibaug as a second home destination. That is the reason hundreds of hotels have come up in this place, added with a number of industries setting up bases here. Only worry in the process is that it may compromise the natural beauty of Alibaug and maker it a cramped first home locality like other Mumbai and Pune property markets," admits Devang Trivedi, Managing Director of Progressive Group.
In a nutshell, the catalytic forces to turn Alibaug from a down market location to future upmarket & high potential zone are its close proximity to South Mumbai via sea, good connectivity by sea and road, developing infrastructure, natural resources and current & upcoming developments.
By: Ravi Sinha