View Point: Jitu Virwani, CMD, Embassy Group believes despite short term pains the year 2017 has been a defining year for Indian real estate sector. The year 2018 promises to have bright prospects.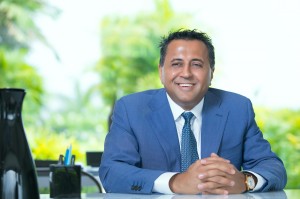 A year back at the end of 2016, the doom mongers were out in force. In our office sector there were those who were predicting a slump in demand, uncertainty around the new Government in the US, the scare stories around automation and AI, the performance of the top 5 Indian ITeS companies, exaggerations around layoffs and even the dramas of corporate Boards of great Indian technology companies.
However, despite all attempts to talk down the continued positive trajectory, it has been yet another positive year for the Indian real estate sector.
From a macroeconomic perspective, 2017 was a good year. India's pace of economic growth has continued to be among the highest in the world and various projections expect it to improve further. India's ranking in the World Bank's 'Ease of doing business' index has jumped to 100 in 2017 from 130 in 2016.
The last quarter saw the FDI investment of $85.79 billion – the highest-ever FDI in a single quarter. Recently, Global Rating agency Moody's Investors Service has upgraded India's sovereign rating to Baa2 from Baa3, while Morgan Stanley has estimated that India will grow to a $6 trillion economy and achieve upper-middle income status by 2026-27.
The start-up ecosystem also witnessed significant traction during the year. As per NASSCOM, India is now competing with Israel to be the third largest start up base with US and UK retaining the top two spots.
Bangalore is at the forefront of this action accounting for around 27% of the start-ups in the country. Bangalore was named as "The World's #1 Dynamic City" in JLL's City Momentum Index and was also cited as the leading "Agile High Value Emerging Cities" followed by Hyderabad and Pune.
The implementation of various game changing reforms such as demonetisation, GST and RERA have resulted in short-term pain in the nation's real estate market, but will surely result in positive long-term gain and consolidation.
The Pradhan Mantri Awas Yojana Housing brought affordable housing to the forefront of the Indian property market. As per Colliers Research, private developers will increasingly show their interests in affordable housing owing to lower financing cost and income-tax exemptions for developers.
According to the CLSA India Pvt, this move by the government alone will unleash a $1.3 trillion wave of investment in housing, with 60 million new homes, 2 million jobs created annually over the next seven years, giving a tailwind of as much as 75 basis points to India's gross domestic product.
The commercial real estate market has remained robust in 2017. Market reports indicate pan India office take up to be in excess of 35m sq ft, a similar level to 2016, certainly no sign of the slowdown in demand, as so many predictions only twelve months ago. Vacancies in all relevant markets continue to be sub 10%.
At Embassy, in 2017 we have signed new leases of around 2.8 mn sf out of which 1.5 mn sf was with 14 new clients and 1.3 mn sf with existing clients.
In the year 2017, co-working office space witnessed tremendous adoption. Initially pioneered by start-ups, entrepreneurs and freelancers to fulfill their need to work in a suitable cost-effective environment, we now see the trend extend to large occupiers using co-working office space for their transitional office requirement.  Embassy has brought the innovative New York based WeWork to India which has seen great demand since its launch in July. 
WeWork already has three operational centres in the country, two in Bengaluru and one in BKC Mumbai, with a cumulative capacity of 6,000 desks. WeWork is all set to expand further and has acquired nearly 1.7 lakh sq ft office space on lease, in Mumbai's Andheri and Vikhroli suburb. In 2018, WeWork plans to launch in Delhi and other metros.
Another trend we have observed is the continuing gravitation of businesses to large integrated business parks which provide the full business ecosystem for staff and companies – hotels on the campus allow occupiers to minimise travel, host team lunches and attend on site product launches.
The Embassy Group is capitalizing on the growth by developing a hotel portfolio across luxury, midscale and budget brands, with focus on business hotels to enhance the value of our business parks.
2017 was an important year for industrial and warehousing real estate as well, the GST regulation providing a critical impetus for the sector. Embassy Industrial Parks, our partnership with Warburg Pincus, is looking to cater to the booming needs for logistics and warehouses space from sectors such as e-commerce, pharma, healthcare, FMCG, apparels and telecom, among others. Embassy Industrial Parks recently invested Rs. 350 crores for a project in Pune and Rs. 140 crores in Gurgaon.
In the Residential sector, a big development in the upscale/premium residential housing business is the growing demand for Private Branded residences. The year-on-year growth of ultra-luxury homes in the city is at an all-time high and the estimated total value of ultra-luxury housing projects in various stages of construction in Bengaluru are valued at Rs 6,000 Crores. The Four Seasons Private Residence at Embassy One has seen the highest home sale of Rs 50 crores, marking the highest price ever fetched for a branded residence in India.
Moreover, the housing sector is also undergoing a steady transformation with the developments of integrated townships as more of the urban population is moving from independent homes to gated communities and integrated townships, which provide a holistic ecosystem and lifestyle.
Overall, the year 2017 has been a positive year despite the short-term turmoil, but is surely part of the positive long-term transformation of the Indian business ecosystem. It is imperative that we continue to have a larger vision of 3-5 years to see significant outcomes, of the key measures being implemented this year. This time horizon will help businesses, investors and consumers to continue investing in the India growth story.
There has been strong absorption in commercial space with a clear decline in vacancy rate in all four Southern metros to less than 10% across the board. The office space take-up continues to be driven by technology intense businesses whether captive or outsourced or Global R&D centres. This is very encouraging for the Commercial sector, which depicts the reality of India being favoured as a marquee destination for global business operations.
The establishment of SEZ in India is as an important strategic tool to expedite the growth of International trade. With the leverage of economic liberalization and introduction of SEZs on a wide scale, India has witnessed unprecedented growth in its exports – Embassy's SEZ's are estimated to have generated over $20bn of exports since inception and employ over 200,000 people.
Industrial space is set to emerge as the next organised property asset class in India, giving a decentralisation push, which should unlock land values in areas outside major cities and stimulate business activity.
The Residential sector has seen a build-up of micro markets across locations. The micro markets have shown high potential for investment leading to capital appreciation for homebuyers. There has been great response from home buyers at the pre-launch stage of projects and for ready to move in homes. Resale and ready to move in homes are not impacted by the GST, which is a very positive parameter for homebuyers.
We also continue to believe that Grade A projects offering differentiated products, Green homes which are relevant for the future will see very good traction. It is important to stay cautious with project launches and to ensure development in planned phases, to avoid the problem of oversupply and unsold inventory.
In terms of reforms, compliance to RERA will reinforce the trend for timely delivery, accountability and transparency. It will certainly add costs and in the short-term, delay project completions and also launches, however once this supply/demand mismatch catches up, RERA compliant homes will boost consumer confidence in the sector.
As the real estate market continues to evolve, the impact of the regulations unfolded in 2017, the sector's future growth prospects in 2018 look bright.
The year 2018 brings forth the continued positive outlook for our Commercial Office business which today stands at over 20m sq ft and approximately 95% occupancy and a development pipeline in excess of 15 m sq ft across South India.
We see continuing demand for good quality commercial office and industrial space, as well as a continuing recovery and growth in the residential sector. By way of example, at Embassy we're currently in discussion with 22 major clients, which will lead to an expansion of our office space portfolio in excess of 3.2 mn sq. 
From an investment perspective, we would expect to see REIT's coming to the market and transforming the way in which real estate is funded in India. Liquidity coming through REITs either from local or international capital, will add efficiency and velocity to the market, drive greater transparency and trust in established top tier developer/investors.
ESG (Environment, Social, Governance) will continue to rise up the agenda – the rise of plentiful renewable power – Embassy is commissioning 100MW of solar plant in Q1 2018 – the attention to air quality and its influence on location decisions, the use of sustainable materials and tread away from plastics will move higher up the agenda, along with infrastructure, focus on safety and security will continue to increase and overall best practice in Governance and Compliance will continue to trend up in 2018.
Operationally, Automation and Process improvement will continue to be a key focus for the industry with consequent improvements in product offering, efficiencies and innovation.
Taken together, we will continue to see the long-term trend towards larger more experienced and compliant developers, backed by strong domestic and international capital – the institutionalisation of the industry will continue in 2018 for the good of our investors, and customers across India.