Track2Realty Exclusive
Opinion: Luxury is not merely a segment that offers expensive homes at premium locations. Luxury is consistently offering buyers in every micro-market the best technology, the best design and the best amenities that help them upgrade their lifestyles.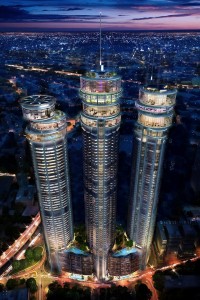 I say this in the context of the fact that Indian real estate sector, of late, has seen an influx of offerings with the Luxury tag.  And most of the offerings vary in comparison. Whether it's the ticket size, location, amenities, brand affinity, services, innovation or design, the Luxury tag hangs proudly and in the face.
So, where do we draw the line or set a qualifying benchmark to demystify the so called 'Luxury' term in India's housing sector. I would go a step further; how should the customer in different categories perceive and logically accept the offering as 'Luxury'.
Being at the helm of a leading brand which operates at both ends of the realty pyramid- ultra luxury and free housing- we too grappled with this dilemma but have largely managed to convey and convince the 'luxury' quotient in our offerings.  However, certain misconceptions and misleading claims continue to thrive in the industry.
I feel that the term 'luxury' in the context of Indian real estate business has to be perceived and judged by micro category of consumers and their realistic aspiration values.
For example, there is a perception that free housing under SRA scheme, specifically in context of Mumbai, does not mean luxury. In Mumbai, SRA (slum redevelopment) is a mode of acquisition of land. Mumbai hardly has any open land. The land either comes from mills, which has workers residing next to it or it comes from old buildings, which need to be demolished and redeveloped and finally from the slums.
The point here is that quality development in SRA means luxury housing to an urban-challenged slum community while also delivering true luxury offerings to an open market.
When you offer a good quality 1 BHK apartment, with a well-planned society, to a slum dweller, you are offering sheer luxury to that person/family. Moving into a proper apartment, in a semi high-rise, for urban-challenged citizens in Mumbai not only means luxury but a life-transforming development.
Now the same theory would not be applicable in case of a LIG or MIG dweller who is already staying in a non-SRA structure. His or her luxury quotient rests in the upgrade they are wanting to. The upgrade would be a mix of bigger house and better amenities. That is luxury to them.
So, in short, upgrading your lifestyle is luxury. For a slum dweller, moving from a 75 square feet house to a 270-290 square feet home with a lift, continuous water supply, a security guard etc, is luxury.
For a middle class family, moving from a regular 600 square feet apartment to a 1000 plus square feet one with a gymnasium, a terrace garden and multi-level parking is a luxury. This is how we differentiate ourselves from our competitors in the micro market, by providing the consumer something extra; by upgrading their lifestyle with the best in class amenities, the best design and the best infrastructure.
However, despite the above interpretation, the term 'luxury' still continues to be misdirected by a faction of the industry. By industry, I mean stakeholders and sales channels which influence the end-customer.  Content creators too, sometimes, form a part of this bracket.
Having said this, I feel the onus of interpretation rests at consumers' doorsteps and mindset. Today's home buyer is more evolved and much more analytical in differentiating between actual luxury and projected luxury.
Customer in order to assess actual luxury need to experience and closely study the  products, the amenities, construction quality & technology and various collaborations which indicate the difference between multiple offerings which carry a common pitch. There is a strong need to peel the extra layer while judging the importance and luxury quotient of various facets which goes into creating a new lifestyle living offering. Here, the responsibility rests equally with the brand and as well the customer.
To cite an example, our luxury offerings Omkar Alta Monte and ultra-luxury offering Omkar 1973 Worli in the micro markets of Malad and Worli respectively have been consistently selling beyond the market average in those micro markets. The feedback from the experts and industry observers including a highly credible realty media pinpoints to finer luxury factors such as design, finishes, nature and quality of amenities, depth of services and collaborations viz a viz similar luxury offerings in the micro market.
Mumbai continues to take the lead in driving the luxury and ultra luxury market in India. The Mumbai luxury realty market will see a big shift in the future. You need to see the kind of houses that are being delivered, the kind of amenities and services on offer and compare them to the older buildings in prime locations in South and Central Mumbai. The old buildings in areas such as Peddar Road, Cuff Parade and Marine Drive have a very high capital value. But, the new buildings, even in the suburbs, have so much more to offer in terms of amenities. In the next 20-25 years, the entire city will have to be rebuilt and that is where a lot of luxury products will come up. That is the need of the market.
As long as you make a good product, give the buyers the right location and the right amenities, they're happy and willing. In case of promising new players and first-time projects, consumers can still get to experience the quality on offer with the sample apartments and a sales experience which rides high on transparency and knowledge dissemination about all the project facets.
In the future, we will have to evolve and keep in mind with the new trends, the new tastes, the new technology and buyer preferences. Even brand leaders need to lookout for something better that they can offer to their customers and constantly evolve with time because innovation too is luxury.
By: Gaurav Gupta, Director, Omkar Realtors & Developers