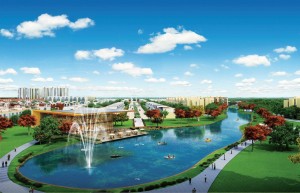 Track2Realty-Agencies: The Delhi Consumer Commission has asked TDI Infrastructure Pvt Ltd to pay over Rs 35 lakh to a man for non-completion of project, in which he had booked a plot, even after three years from date of promised delivery of possession, saying it "amounts to deficiency of service".
The Delhi State Consumer Disputes Redressal Commission, presided by Judicial member S A Siddiqui, asked the real estate firm to pay Rs 35,80,000 to one Amar Singh Pahal, noting that 'Äúit can also be taken as indulgence in unfair trade¬†practice'ÄĚ.
'Äú…it would be in the large interest of justice that the amount deposited by complainant is refunded back…He should also be adequately compensated for the harassment, mental pain and agony.'ÄĚ
'ÄúNon-completion of project even after three years from the date of promised delivery of possession definitely amounts to deficiency of service on the part of Opposite Party (firm). It can also be taken as indulgence to unfair trade practice,'ÄĚ the commission said.
In its order, the commission also added that a consumer cannot be made to wait indefinitely on whims and fancies of a builder.
'ÄúThe OP is directed to refund a sum of Rs 35,20,000…The OP further directed to pay a sum of Rs 50,000 as compensation for mental pain, agony and harassment. OP will also pay as sum of Rs 10,000 towards costs of litigations,'ÄĚ it added.
Pahal had contended before commission that in May 2006, he had paid Rs 35,20,000, which was 80 per cent of total cost, for a shop in firm's commercial proposed project at Kundali, Sonepat, Haryana, which was to be completed by February 2009.
However, the firm did not handover the possession of the unit till date and made false promises.
After observing the delay in completion of project, Pahal sought refund of his money but the firm did not reply.
Thereafter, he approached commission, seeking a direction to firm to refund the amount, besides Rs 10 lakh towards compensation and costs of litigation and miscellaneous expenses.
The firm, however, denied allegations made against it and contended before the commission that Pahal had deliberately misrepresented the status of development of the construction of the complex, and also added that Pahal was not a consumer.
It said that the pace of construction was slowed down due to various reasons, including the global recession in 2008 and a few legal complexities, adding that it was still committed to handover possession of the unit in near future after its development.