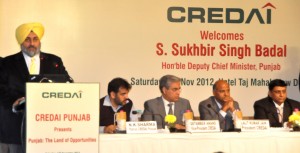 Track2Realty: The Punjab Deputy Chief Minister Sukhbir Singh Badal showcased on Saturday, Nov 17, prime urban land under the possession of Punjab Government to 137 international and national Real Estate Developers, who assembled in Mumbai under the aegis of Confederation of Real Estate Developers' Association of India (CREDAI) in a convention organized by them, Punjab land of opportunities.
Addressing the real estate developers, who came from various parts of India including South India and Western India and as far as Dubai to listen to Punjab Deputy Chief Minister Sukhbir Singh Badal, who shared his vision to develop Punjab as potential real estate hub of the country besides promising them a hassle free most comprehensive Real Estate Policy by December 15, 2012.
Presenting Punjab as Land of Opportunities, Badal said that Punjab defied global recession by clocking 20 plus percentage VAT increase without increasing any tax rate. He said that real estate developers, who had enjoyed best of time, would have to become consumer centric in the changed scenario, marketing their products according to the immediate needs of consumer.
Badal said that Punjab with highest consumer index high per capita income best infrastructure in the country, best human resource, best industrial and agri work culture and on the top of it with enterprising Punjabis willing to take every risk was the best place to invest. He said that Punjab was only state in the country that has prepared master plans of all the cities with a focus on planned urban development. He said that it would be the first state in the country that would be power surplus by December 2013, three international airports, all cities linked with 4/6 lane road networks and was laying special emphasis on education, health and hospitality. He said that Punjab has already notified the master plan of 32 cities, 72 local planning areas, 147 towns and 27 master plans were under preparation.
Giving details of Power surplus status, Badal said that against the demand of 8214 MW and current availability of 5872 MW, Punjab would be generating 11484 MW by the end of 2013. He said that Rs. 12000 crore 1980 MW, Talwandi Sabo Thermal Plant, Rs 3000 crore 540 MW Goindwal Sahib Thermal Plant and Rs. 9000 crore 1400 MW Rajpura Thermal Plant are all set to be operational by next year.
He said that by next year Shambhu-Jalandhar, Jalandhar-Pathankot, Jalandahr-Amritsar, Amritsar-Pathankot, Amritsar-Zira-Kot Kapura-Sri Ganga Nagar, Ludhiana-Moga-Talwandi, Hoshiarpur-Jalandhar-Moga-Barnala-Sangrur-Patran-Jind, Kharar-Ludhiana, Kurali-Ropar-Kiratpur Sahib, Ambala-Zirakpur-Kalka, Zirakpur-Patiala and Patiala-Bathinda would be linked with 4/6 lane roads with the investment of Rs. 7600 crore.
Focusing on planned Urban Development, Badal said that he has sanctioned Rs. 10000 crore for integrated development of 147 cities that would provide 24X7 Power, 100% Drinking Water and Sewerage Coverage, Solid Waste Management and would ensure smooth traffic management.
Inviting Real Estate Developers to invest in Punjab, Mr. Badal said that Real Estate, road and urban infrastructure, Edu cities in Mohali, Ludhiana and Bathinda, tourism and entertainment hubs in Amritsar and Ludhiana, health, hospitality and IT sector and offered total cooperation of State Government.
Showcasing Real Estate opportunities in the GMADA region, Badal said that city center (80 acre), medicity (200 acre), IT City (1600 acre), Education cities (1700 acre) were the life time opportunities in the vicinity of Chandigarh that would change the total profile of the Northern India. He said that Tata Cancer and Research Hospital has already moved in Mullanpur and Edu Cities were offering 1700 acres for universities, colleges, institutes of management, computer science, engineering and bio tech etc. He said that sector 62 City Center would offer integrated development of five star hotel, convention center, shopping malls, multiplexes and auditorium.
Reiterating the resolve to make GMADA as IT hub of South East Asia, Badal said that top IT companies were vying to setup their units in 1700 acre located near international airport Mohali. Mr. Badal also showcased real estate opportunities in Ludhiana including 124 acre land near Ludhiana airport, 1500 acre integrated township near Ludhiana, 4500 acre entertainment hub that are set to put Ludhiana on the the world tourist map. He also offered prime real opportunities in Amritsar, Jalandhar and Patiala.
Announcing Real Estate Policy by December 15 Badal said that the policy would include plethora of incentives including hassle free clearances, time bound ec clearance, uniform code for all cities, unlimited heights besides rationalising charges. Badal said that Punjab Government always had a massive response its real estate schemes as received 3.25 lakh applications for 4000 properties in Aero City and 1.25 lakh for 807 properties in Mullanpur.
Earlier addressing the investors N.K. Sharma, Chief Parliamentary Secretary industry gave salient features of various policies of Punjab Government.
CEOs of Oscar Group of Companies Mumbai, Omaxe Group, Shipra Group, Ashiana Homes, Assotech Limited, ATS Infrastructure, Aegis Center Point Developers, Shivalik Group, Savvy Infrastructure and Ganesh Housing Corporation from Ahmedabad, Omaxe from NCR, BBC Infrastructure from Gaziabad, Mahindra SEZ and Lifespaces, Earth Infrastructure, Janpath Estates, Emmaar Group, Ansal Lotus, Majestic, Aerian R Group, Innovative Group, Ambience Group, Arihant Builders, Gold Coast, Fortune Multitech, TDI Infrastructure, Eros Group,  Paramount Group and Aliwadi and Co, Parshavnath Group and Kumar Urban Development from Pune. Were offering full support to their initiatives of Mr. Sukhbir Singh Badal and were coordinated with state government officials present on the occasion to fine tune their investment opportunities in various regions of Punjab.