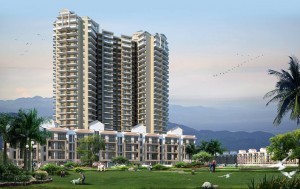 Supertech has launched a housing scheme for serving and retired government employees called Officer's Enclave in Sector-2, South Of Gurgaon (Sohna), Gurgaon.
The scheme will to cater to the housing demands of the government officials at below the market rates. The price of 2 & 3 BHK apartments and 3BHK independent floors is ranged between Rs. 33 lacs to Rs. 46.61 lacs.
The objective of the scheme is to provide affordable housing to the government employees at a price which they can afford. The allotment of the units at Officer's Enclave will be done on first-cum-first-served basis; the offer of application will start from January 15, '16 and end on February 7, '16.
Officer's Enclave, the affordable group housing project, is a part of 140 acre integrated township, Supertech Hill Town. The scheme will have around 1000 units of various categories -  2BHK (958 sq. ft.) and 3 BHK (1345 sq. ft.) apartments in the high rise buildings and 3 BHK independent floors (1375 sq. ft.).
The price of the units is Rs. 33 lacs for 2BHK apartment and Rs. 45 lacs for 3BHK apartment in the high rise building and Rs. 46.61 lacs for an independent floor. The pricing of the group housing project is being specially designed after analyzing the purchasing power of the government officials.
On the announcement of the project and its scheme, R. K Arora, Chairman, Supertech Limited said, "To bring in more smiles, Supertech has endorsed our honorable Prime Minister's vision of 'Housing For All by 2022'. We had earlier launched affordable home concept like 'Roti, Kapda aur Eco Village', which catered to the housing needs of masses in Noida Extension at very attractive prices. This new endeavor is a special one and very close to our heart – affordable homes to the people who have spent their lives serving the interests of the nation. I feel proud to launch this initiative aimed to provide an unbelievable residential solution to the government employees as an acknowledgement towards their contribution to the country".
"Supertech has always launched its projects after analyzing the demand of a particular market. Noida, a few years back had a great demand for affordable housing. Seeing this demand, we had successfully launched a series of affordable housing projects in Noida Extension. South Of Gurgaon, too has a huge potential for affordable housing which is untapped so far. Studying this need for affordable prices, we have come up with a scheme priced below the market rates, which has not been offered so far. The price of the project is designed keeping in mind the purchasing power of the government officials", said Mohit Arora, Managing Director, Supertech Limited.
Officer's Enclave is enriched with all ultra modern facilities and possesses great connectivity with commercial hubs in Sector- 48 & 49, Gurgaon, 40 minutes drive from international airport and well connected with major expressways and metro service.
The project is close to reputed educational institutions like KR Mangalam University, GD Goenka World School, excellent healthcare facilities like Medanta Medicity, entertainment centre.