By: Sandeep Pantvaidya, Vice President- Customer Relations, Sales and Marketing, SPR & RG Constructions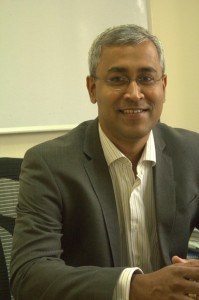 Track2Realty: In most Indian metros, people have reached a point where the word 'Äúnature'ÄĚ has become a distant dream which they hope to enjoy on a vacation.¬† All they get to see are tall scrapers coupled with a massive amount of pollution. Children in these cities do not know what it means to wake up to the chirping of birds, or even the view of sunrise. Most of India experiences such encounters with nature. However, people in metro cities are missing out on this special experience.
What are we giving our next generation who will be residents of the big cities in the country? Sky scrapers and pollution? We need to find a way to bring back nature into the city, something that will add life to daily living. Pollution levels have reached alarming levels and greenery is a way of mitigating those damages caused by environmentally detrimental activities.
People who have experienced that side of life, of being close to nature, would feel out of place even though they might have lived in the city for a long time. Efforts to work towards creating a green environment are far too few compared to the other developments activities that are happening.
What does the real estate industry has to offer in such a scenario? Real estate players could make a difference by incorporating greenery in their architecture. A galore of amenities can be seen in a large number of projects, but incorporating such green features looking at the current state of the planet is essential. At the rate of environmental chaos that is happening to our earth, builders and architects could make a huge difference if they work towards creating spaces for greenery.
Just like in the country side, people in the cities need to enjoy nature as well. Such projects will go a long way in changing the way people live their lives, amidst the hustle and bustle of the city. Most people want to live in with nature far away from the city, but they also want to enjoy the modern way of life that the city has to offer.  A mix of both could be provided to residences by real estate developers in metro cities through projects which follow the green philosophy. Projects could have exclusive green spaces, such as terrace gardens and parks with an expanse of trees and plants in-built in them.
The entire experience of being part of a project with greenery around will be a holistic experience to customers. Residents can be encouraged to participate in gardening and be part of establishing the green set-up.
Most people want to live in a green environment and to participate in activities like gardening. However, space and time are constraints. But when, a green environment is part of the design, involvement from residents in nurturing and sustaining it can be seen.  Their way of living could be merged with the greenery around. For example, fruits and vegetables which are grown in the site can be sold to residents. This creates a setting, where people begin to visually see, feel, hear and touch nature in its true colors. Nature has its own way of attracting humanity with the colors that it showcases itself.
The government could also incorporate measures that would ensure green elements in upcoming projects. More and more builders could embark on creating such projects that provides residents the opportunity to enjoy greenery outside their window. This will also act as a way of creating a sustainable way of living and set a positive trend in the Indian real estate industry.
To ensure that the population is receptive to such measures from builders, environmental education is an essential element which needs to be engraved in the educational system. This way the coming generation will appreciate and understand the importance of the environment protection which will lead to their active participation in measures that upgrade the environment. Practical activities like gardening, monitoring and farming techniques can be included. This kind of education should be imparted to children so that they develop the right attitude to safeguard the environment.