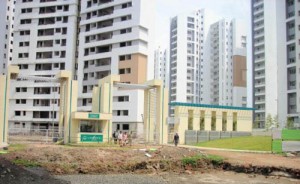 Track2Realty-Agencies:Â West Bengal did not receive any investment, either foreign or domestic, in the real estate sector in the financial year 2012-13, according to a report by industry body ASSOCHAM.
"The state of West Bengal has absolutely no share in the total value of new investment commitments worth over Rs 42,000 crore made by the domestic and foreign private sources in the real estate sector across India in the last fiscal," the report which a real estate sector specific analysis and released, said.
"Although total outstanding investments in the real estate sector in West Bengal is worth over Rs 37,000 crore as of March 2013, the state has registered a 100 per cent decline vis-a-vis new investment commitments attracted by the realty sector between 2011-12 and 2012-13," it said.
In 2011-12, the state attracted new investment commitments in the real estate sector worth over Rs 1,200 crore.
The body said while most of the states have seen a decline in attracting new investment commitments in the realty sector, Gujarat has seen a surge of over 700 per cent as the state has attracted investments worth over Rs 17,000 crore in 2012-13 from just over Rs 2,000 crore a year ago.