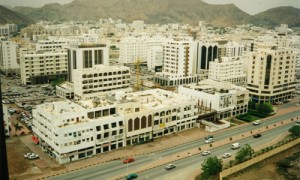 Unveiling a plethora of major investment opportunities for non-resident Indians in the Sultanate, a two-day Investment Exhibition India 2011will take place on September 9 and 10 here.
Offering a vivid glimpse into the burgeoning India including ongoing real estate trends in the country and the potential complexities witnessed by the market, the realty fest is presented by the Times of India.
Organised by Arabian Gate Expo with Molecules LLC, the expo will attract both Omanis and Indians to invest in various realty projects across the country.
'ÄúIndia is one of the most prominent countries in the Asian continent, which is right on the track of development. After two years, we are back with the most immense Indian realty show in Muscat for mutual business benefits'ÄĚ, Tariq Mohammed al Balushi, Managing Director, Molecules LLC, said.
The organisers said that the entire spectrum of Investment Expo India 2011 has been made to facilitate prospective buyers/sellers and all associated with the real estate fraternity to take quick investment decisions by zeroing in on the latest updates.
'ÄúConsidering an increase in real estate investments, we bring in a quantum jump, introducing database, current projects and affairs for property prices in India'ÄĚ, Lijuhas Hussain, Director, Molecules LLC said.
'ÄúMore ostensibly, we offer the right impetus the real estate enthusiasts and industry professionals require following the latest developments in Indian realty'ÄĚ.
The Indian real estate market is growing to newer heights and it has emerged as one of the most profitable businesses in the recent years. Investing in real estate in India is sure to fetch the investor a rewarding deal as the returns on investment in this sector are at an all time high.
Thus, the real estate business has attracted several foreign investors in the past few years like never before. Additionally, Indian GDP has expanded 7.7 per cent in the second quarter of 2011 over the previous quarter.
One can also witness an array of upcoming projects, both in residential and commercial sector, in the Tier 2 and Tier 3 cities.
Property prices in the metropolitan cities of India are spiralling upwards and investing now can assure greater returns.