News Point: Global hospitality major enters Indian market for serviced residences; developers sense big business.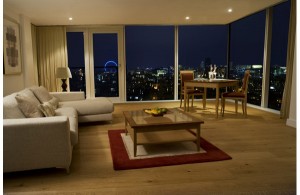 JNB Group and BridgeStreet Global Hospitality have forged partnerships with three Indian real estate developers; IDI, AIPL and CHD. Â This collaboration will provide quality assurance, marketing and global sales benefits for guests, developers and investors.
With these new partnerships, JNB and BridgeStreet will be co-branding 183 units of IDI in Noida, 100 units of AIPL in Sector 66A, Gurgaon and 364 BHK units of CHD in Sector 106,Gurgaon.
BridgeStreet has already signed with developers like Silverglades, V Square, Homestead and Logix for 1600 units in Delhi and the National Capital Region of India and will have 500 functional units by the end of 2016.
"We plan to have 5000 fully operational units within five years in pan India, adding to the 50,000 BridgeStreet units worldwide," said Sean Worker, president and CEO of BridgeStreet Global Hospitality.
JNB and BridgeStreet have been working together in India since 2012.  "This collaboration is key to BridgeStreet's development of franchise and management opportunities, " said Sean. "We are working together with JNB to build further investment and development projects in India."
Elaborating about BridgeStreet's brands, Worker explained, "Our family of brands includes six-star Exclusive, five-star Residences, four-star Mode Aparthotels and Living, three-star Places and two-star Studyo—offering the convenience of apartment living with a variety of service packages to match guest needs based on location, price point and individual preferences. We are looking to replicate the same experience here in India."
"We feel that the Indian real estate market is one of huge promise as there is little in terms of supply of serviced apartments.  Increasing demand from IT, consulting, banking, financial and automobile sectors will only create more opportunities. What is required is the right branding, quality assurance and on-time delivery. This will not only lead to price appreciation, but will also ensure growth," says TJ Barring, President, JNB Group.
"Pure commercial and residential projects won't do well in the coming years, a hybrid version which supports serviced apartments would have a much higher demand," says Taran Kaur, Director JNB Group. "The benefits of JNB Group and BridgeStreet are regular rental income,  high occupancy,  fully-furnished apartments with contemporary dĂ©cor, well-equipped kitchens to prepare your own meals, personal service  with 24/7 emergency support, convenient monthly invoice that includes utilities and housekeeping, Internet access and concierge service."