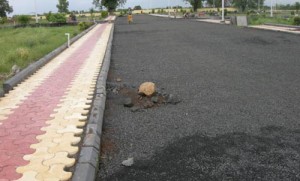 Delhi Police have busted a gang of fraudulent real estate managers who had tricked people into buying land in Masharashtra towns at 'low rates' and fled.
"With the arrest of one Arvind Kumar, a resident of Paschim Vihar, we have busted a gang involved in cheating more than 200 people in Delhi and Pune of crores of rupees. Arvind Kumar Singh and his associates, including two of his real brothers, used to target the middle class people and cheated them of their hard earned money," said Arun Kampani, DCP (special cell).
"We had received a request from Khadak police station in Pune to help probe the role of the directors and promoters of Micron Marketing & Services Pvt. Ltd located at Paschim Vihar in Delhi and its branch office at Shiv Kripa Building, Sukravarpet, Swargate, Pune. The company came into existence in 2006," said the DCP.
"They earned huge sums of money by organising seminars at several places in different cities of India, where they used to lure the innocent public by saying that they were providing the 1,000-square-foot plots in Mahabaleshwar, Sholapur, Pune, Nasik, etc for just Rs.7,000 to Rs.8,000. They used the chain marketing system for this purpose and earned crores of rupees by cheating about 200 innocent people. In 2009, they closed all their branches including their Paschim Vihar office. When a case of cheating was registered against the accused, they were on the run," said the officer.
On receipt of the above request from Pune Police, a team of ASI Ranjit Kumar, ASI Vikram Singh, head constable Yashpal Singh, head constable Banney Singh and constable Ravi Dutt reached Paschim Vihar, New Delhi but the premises were found locked. Thereafter local sources were deployed and around 4pm on May 18 a source informed that one of the accused, Arvind Kumar Singh, would be coming to Mandi House by the metro.
The raiding team of Special Cell reached at Metro Station, Mandi House, where the informer met them. After verifying the information, ASI Ranjit Kumar laid a trap at both the gates of the Mandi House metro station. Around 5.30pm a person was seen coming out of gate No. 3 of the metro station, who was identified by the informer as Arvind Kumar Singh. The special cell team apprehended the person whose complete identity was revealed as Arvind Kumar, a resident of Paschim Vihar.
During his interrogation, Arvind Kumar said that he, along with his brother Yogender Pratap Singh and one Rakesh Vaishya had started a company by the name M/s Micron Marketing & Services Pvt Ltd and made a lot of money by cheating hundreds of people by promising them plots at different places in several states. They operated this land racket during the period 2006-2009.
During this period hundreds of innocent people deposited the money with the company for getting plots at cheaper rates. However, in the year 2009, after collecting crores of rupees they closed the Company and were absconding ever since. Pune Police has been after them ever since. They were arrested by Special Cell u/s 41.1 Cr PC.
Police Officers of PS Khadak, Pune City, Maharashtra were informed and they have reached Delhi to take arrest of the accused. The accused is produced in the court by Special Cell and his custody has been handed over to Pune Police on the directions of the court.