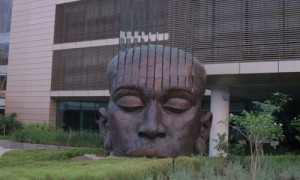 Track2Realty Exclusive: The three key factors that go into sustainable construction are 'ÄĒ design, materials and technologies. In order to get the benefit of those savings, a developer has to replace conventional methods with green alternatives on all the three fronts.
'ÄúIn an intelligent or green building, we mainly focus on three objectives: saving of energy, saving of water and maximum human comfort for higher productivity,'ÄĚ says Sandeep Shikre, President and CEO of SSA architects.
'ÄúLet'Äôs take the example of designing the envelope or exterior of a building. We need light and air inside the building but not the harsh heat of the sun. So we design it in such a way to avoid exposure to the sun'Äôs path and still have cool air circulation and light. This enables the savings on electricity consumption for massive air conditioning systems and hundreds of lights and fans,'ÄĚ says Shikre.
'ÄúIf you replace conventional bricks with pre-fabricated blocks, one saves between 40-60 per cent of construction time. These blocks are made up of fly-ash and cement, which are light in weight, but stronger than bricks. They are non-toxic and eco-friendly. This saves cost and gives you a better building,'ÄĚ says Suresh.
Installing a sewage treatment plant and deploying that water for household use translates into huge savings in water consumption.
'ÄúLike rain water harvesting, thousands of litres of recycled water obtained daily from sewage treatment plants can be used for flushing, washing cars, gardening and other non-potable uses. This translates into huge savings in municipal water bills,'ÄĚ says S Raghupathy, Executive Director of CII'Äôs Godrej Green Centre.
Experts believe today, residential buildings must adopt such initiatives to become self-sufficient and not put pressure on the city's infrastructure to service their needs.
More developers are turning green as the savings on construction time and material costs translates into savings on capital costs. According to an estimate by the IGBC, the incremental cost of incorporating technologies in a Platinum-rated building is only between 2-5 per cent of the construction cost, which is recovered within 3-4 years. This is still lower for Gold and Silver, certified buildings.
However, there is a word of caution by many experts. If the developers are really serious about the green buildings, they must pass the benefits to the end users. Failing this, they maintain, green building will turn out to be a utopian dream meant for only academic discussions.
The government must also ensure regulatory provisions against misleading advertisements about green buildings.