Track2Realty Exclusive
News Point: Consumer activism, media trial & judicial intervention come to the rescue of harassed homebuyers; developers clueless to deal with it.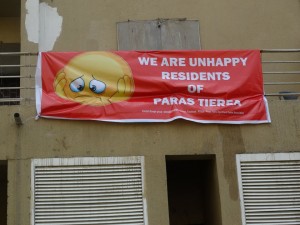 Snigdha Chauhan has been a dejected homebuyer for long after having invested in a housing project in Gurgaon that could not take off in the last seven years. She knocked every possible door – right from the developer who even refused to meet personally, to the fellow homebuyers who were clueless as to what to do. Media, of course, did not find a story into this as project delays are no news nowadays. And finally, her last resort in judiciary proved to be an ordeal of dates after dates as the developer had more financial clout to afford battery of eminent lawyers.
Snigdha, and many harassed homebuyers like her, are today smiling as the tables have turned and the simultaneous triple intervention of consumer activism, vigilante media and judicial cognisance have changed the outlook of the helpless homebuyers completely. This triple effect is proving to be the boon for the homebuyers and bane for the defaulting developers who took the buyers for a ride too long due to lax regulations and passive institutional responses.
"I was taken aback on that night when I found it in the TV news that after the buyers' protest and its telecast on the TV news channels, the court has now intervened and ordered that the developer will have to refund the homebuyers' money with 18 per cent interest. I think the collective power of consumers, media and judiciary saved us from being robbed of our lifetime's savings," says Snigdha.
Emerging realities 
Consumer activism, media trial & judicial intervention helping the harassed homebuyers
Developers are clueless in terms of dealing with the simultaneous spate of consumers, media & judiciary
Developers blame it to approval delays but are not open to be transparent with homebuyers
Elements of consumer blackmailing also gets legitimacy due to poor perception of the builders
This is not an isolated incident where some of the homebuyers like Snigdha could get the justice; though delayed but not denied. Today, as the consumers increasingly understand the power of collective might & activism and media is supporting the worthy cause leading to judicial interventions & speedy trials, the market dynamics of Indian real estate has suddenly changed a lot.
This also raises a fundamental question as to how long will this triple action continue. More importantly, are the developers at the receiving end of the current spate of consumer activism, vigilante media & judicial intervention ready to change the ways & means of operating recklessly?
Most of the developers admit that today environment is challenging for a real estate developer. They, however, blame it to the external factors than accepting their own fault. A section of developers maintain that there are so many unforeseen reasons and force majeure which are beyond the control of a developer. So, during that period construction is stalled beyond months to years. That period cannot be contracted. Developer faces two losses, one is time, and another is financial loss.
Pratik K. Mehta, Managing Director, Unishire maintains that consumer activism is good but needs to be used constructively to resolving a problem. Similarly, with the vigilante media and judicial intervention, lot of the non-transparent issues could come to light which are not always due to a developer but sanctioning authorities also.
"I understand that there is a valid reason behind the new wave of activism that is taking place and agree that if a developer has not delivered on promises and commitments, they should be penalized but blatant activism without appropriate knowledge of the situation may only worsen the problem," says Mehta.
A critique of consumer activism, Raj Gala Shah, Partner, Zara Habitats says that such market forces will definitely be the catalyst to better the eco system, provided there is ethical practice followed while fighting for the right cause and for that to happen self governance is crucial. It should definitely be the ultimate aim to weed out unscrupulous elements, not just from the business but also from the consumer activism side wherein certain individuals pursue monetary benefits under the garb of activism.
"Under an united effort the consumer, media and judiciary, the real estate sector can steer the future to a transparent environment, without being dependent on the government. As the adage goes 'with great power comes greater responsibility' and it seems apt for the current scenario of consumer activism. With the easy availability of information through RTI, 24×7 media coverage, a judiciary with stern outlook towards the real estate sector, it seems that there are only unscrupulous elements in the business," opines Shah.
Developers have their reasons to sound like every consumer activism is blackmailing. But the fact remains that it is not consumer activism alone but two pillars of democracy – media and judiciary – that have become part of this 'operation clean up'.
Of course, certain elements of consumer blackmailing cannot be completely ruled out. But then the developers are guilty of lending credence to every arm-twisting as legitimate activism since they have not taken care of perception management. CREDAI President Geetamber Anand repeatedly talks about perception management but has thus far failed to take any action against the erring developers who have been indicted by various judicial interventions in recent times.
This spate of collective might of consumers, media and judiciary promises to change the market dynamics more than any government appointed regulator. The reason being that it is coming out of spontaneous reaction and calls for fighting against the malpractices in the business where the developers have enjoyed the free reins far too long.
A section of analysts admit that the genuine developers who are not guilty of delaying and denying the buyers should rather welcome this triple intervention. They can also be more open about the issues the developers have to face. Of course, the single most and biggest challenge is the approvals systems for projects. It is the leading cause of worry on part of the developers as reason for many project delays is the system.
There is absolutely no accountability in the approval systems and due to several agencies involved there is lack in coordination and willingness to adhere to timelines. Also, most of the authorities are ill equipped to handle their respective jobs/positions which worsens the situation.
With the onset of consumer activism, a lot of these processes can be monitored, documented and understood by the general public at large to understand the various challenges developers face. This also could pose a huge pressure on the departments to work diligently as now they are answerable to not just a handful of developers but to a larger set of an audience that is not ready to be a silent spectator any longer.
Will the triple force of consumer, media & judiciary weed out unscrupulous elements from the business? There is no second opinion that if channelized properly, this spate of vocal outcry can certainly identify and weed out the unscrupulous elements form the business. Of course, the element of consumer blackmailing threatens to derail all the good work done. But then it is not the consumer activism alone but to monitor and take it to logical conclusion, media and judiciary are also playing an active role. Collectively, this promises a new eco system of housing market in the country.
By: Ravi Sinha